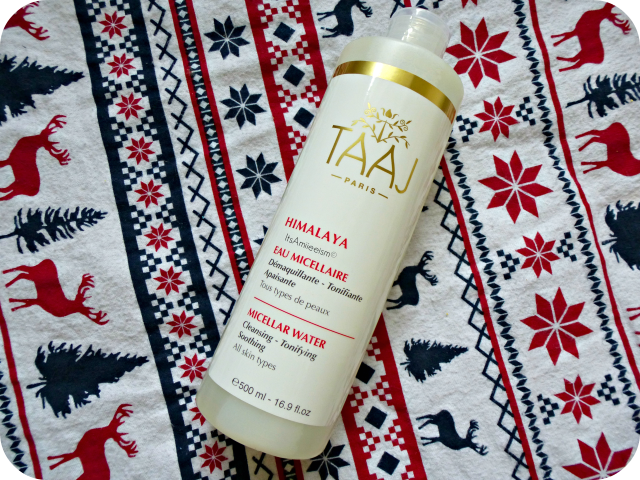 When it comes to skincare, if I like something then I buy it in bulk and this is definitely the case when it comes to the Taaj Himalaya Micellar Water as I so wish that I bought more of this when I saw it at the barganious price of £7.99 in T K Maxx last year. I will admit that I had never heard of Taaj before until Zoella mentioned it back in 2012 which I'm sure will be the case for majority of us!
The Taaj Himalaya Micellar Water (£16)

is a micellar water unlike others that cleans and removes makeup and impurities all in one step, using natural water from the himalayas along with chamomile, rosemary and green tea. It quite literally cleanses, tones and soothes the skin without stripping it of it's essentials oils whilst being suitable for all skin types.
I like to use this for the bulk of my makeup whilst using a seperate makeup remover to remove my eye makeup. I take a cotton pad or two, pour out a generous amount onto the pad before sweeping it across my face which takes off majority of my makeup within one sweep, literally. Unlike other micellar waters that I've used in the past, this doesn't irritate my skin nor cause me to rub at my skin vigorously. What I like the most about this makeup remover is not how well it removes my makeup but actually the scent as it's a revitalising zesty citrus scent which is neither overpowering or weak - it's just the right amount. This truly is one of those dealbreaker products that can truly revolutonize your skincare routine like it has mine as I don't have to deal with lots of dirty cotton wool pads and irritated skin! I truly do wish that I did buy more bottles of this at the time but for now, I'll make do with the half bottle or so that I have left and truly treasure it.