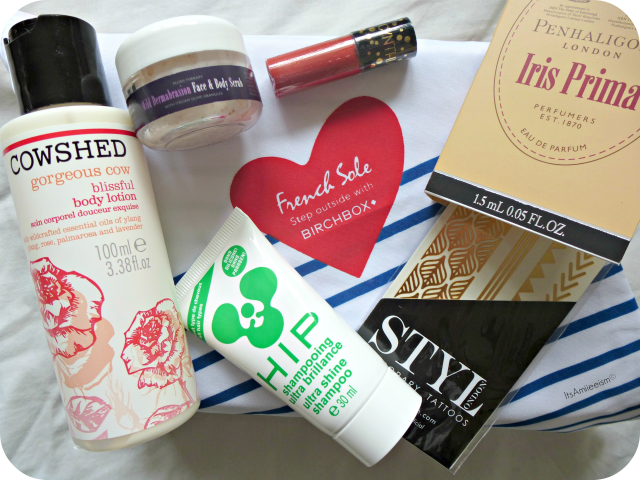 I cannot believe that we are now coming towards the end of June! Where has the year gone?! Birchbox have certainly made this half of the year has gone moment a lot better as they've collaborated with French Sole to bring this months edition. There are three different designs to choose from and I went ahead and chose the From Paris With Love design as nothing really can beat some good ole' nautical! In addition to a beautifully designed box, there's a matching shoe bag which you can use for a number things and not just for storing your shoes in! Let's delve in and see what I received in this months edition..
Firstly, I got a very generous sized bottle of

Cowshed Gorgeous Cow Blissful Body Lotion (£20)

which contans wildcrafted essential oils of ylang ylang, rose, palmarose and lavender to help evoke a happy, blissful mood whilst soothing and balancing the mind at the same time. Now, I'm not sure about you but this reminds me an awful lot of cinnamon which I detest so I'll be passing this along to a family friend who I'm sure will got a lot of use out of it.
The next item is a teeny tiny sample pot of

Premae Mild Dermabrasion Face & Body Scrub (£25)

which is a skin-loving vegan body scrub containing italian olive granules to help decongest, brighten and smoothe the skin whilst being gentle enough to be used on the face too! I love a good manual scrub to use on days when I'm not using a chemical exfoliator so this will definitely be getting used at the next given opportunity. As it is such a small sample pot, it would even be good for taking on holiday with too.
I was little underwhelmed when I saw a sample of

Penhaligon's Iris Prima Perfume (£85)

as I seem to have acquired a lot of perfume samples in a short space of time. Regardless, these are handy to have to throw into a clutch or going on holiday with as they hardly take up any room. This particular fragrance smells rather fresh yet comforting at the same time.
I'm currently in the process of stocking up on travel sized hair products for my holiday away in October so this generous sized sample of

HIP Ultra Shine Shampoo (£15)

is a welcome addition to my stash! This contains a blend of peppermint and eucalyptus oils to help detoxify the hair whilst boosting circulation and soothing the hair as well giving it an unbeatable shine for healthy, happy hair.
The only makeup addition to the box and an apparent Birchbox exclusive is the

Cynthia Rowley Beauty Creamy Lip Stain in Poppy (£14)

which is a pretty coral-pinky-red hue that stains the lips whilst moisturising them and giving the shine of a gloss. I wouldn't personally pick nor wear this shade so this will be getting passed onto a friend.
The last addition to the box and is an extra beauty bonus are the

STYLondon Temporary Metallic Tattoos (£7.99)

which are some beautiful, golden temporary tattoos that you can use on both nails and skin. I feel that these are a little childish for me especially considering that I've got real tattoos however I can seem them being perfect for festivals or a night out.