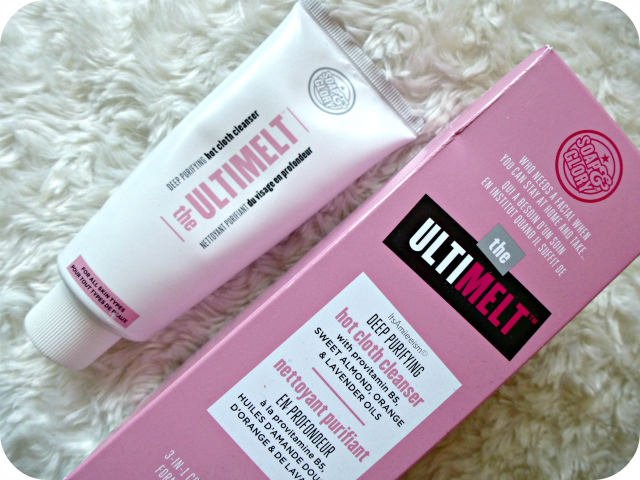 Out of all the different types of cleansers that I've tried, I always remain loyal to the hot cloth/cream based variety. This is not because I'm too lazy when it comes to balms or I don't like the mess when it comes to oils, it's simply because the cream based types are one of the first cleansers that I've tried and is one that works well for my dry skin. Recently, I've found myself trying out different cleansers and the one that I've been putting to the test for the past few weeks is the Soap & Glory The Ultimelt Deep Purifying Hot Cloth Cleanser.
The Soap & Glory The Ultimelt Deep Purifying Hot Cloth Cleanser (£10)

is unlike any other cleanser that I've used before as the packaging is not far from being a very large toothpaste which not only makes it more easy to use but it means that you won't be wasting any product! The cleanser intself is a blend of sweet almond oil, orange oil and lavender oil with provitamin B5 which makes the scent of it very similar to the Balance Me Radiance Face Mask.
I like to squeeze out a decent sized amount and blob it onto my face before massaging it all in, concentrating on any key areas which may still have makeup on. After massaging it in and depending on how keen I am to jump into bed, I leave it on for roughly two minutes before taking a warm muslin cloth and removing it. Since using this, I've noticed that I've been having some really good skin days which I believe is down to finally using products that are better suited to my skin which definitely includes this cleanser! As I use this as both my morning cleanser and my second cleanser in the evenings, my skin hasn't been feeling stripped nor dry and instead, it feels really soft and hydrated to the touch. This is by far one of the better hot cloth cleansers that I've used and is one that I will be repurchasing for sure!