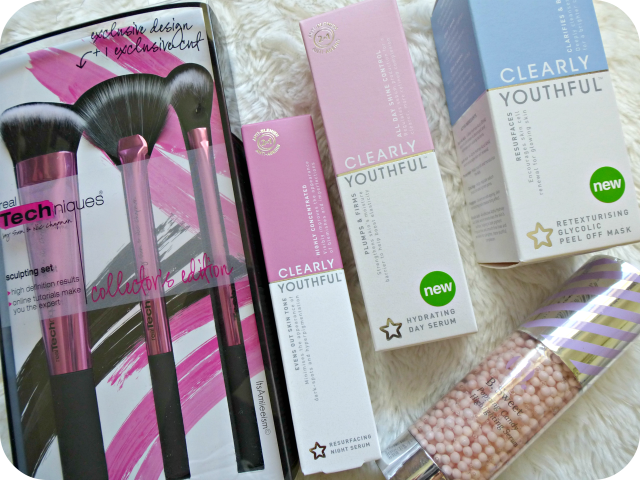 When news hit that Real Techniques had brought out a new set of brushes, everybody and their nan went crazy for them including myself. However, I resisted buying them as at the time I thought that I didn't need them. With that being said, whilst in York's Superdrug just about to pay for some items, I saw that they were on special offer and I picked a set up despite the fact that I didn't need them. Included are three brushes - the Sculpting Brush, the Setting Brush and the Fan Brush of which all three I'll find a use for.
After reading rave reviews of the Clearly Youthful Retexturising Glycolic Peel Off Mask and being compared to the likes of REN's Glycolic Active Mask, I definitely had to pick it up especially when it had money off it! I also picked up the Clearly Youthful Resurfacing Night Serum and Clearly Youthful Hydrating Day Serum as I need to vary up my skincare some more.
Lastly, I picked up the B. Sweet Popping Candy Highlighting Serum which you can use in a multitude of ways including as a highlighting serum, primer and highlighter. I think I'll use it as both a primer and mix it in with my foundation to get a really dewy, radiant effect.