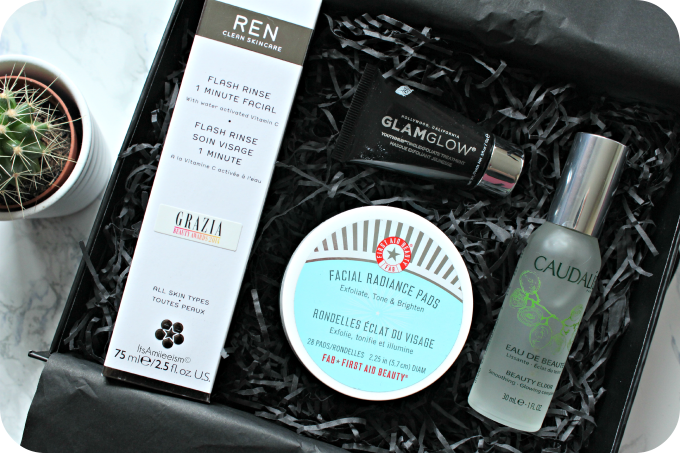 One of my biggest bug-bears with my skin is that I can create radiant looking skin with makeup however when it comes to wearing no makeup at all, my skin can look quite the opposite and be rather dull. One morning at work, a fellow blogger shared a link to her blogpost citing how incredible value the

Feel Unique Radiant Skin Beauty Box

was which instantly made me purchase it, especially after googling for a cheeky discount code too!
The only product that I've tried from the box is the

Caudalie Beauty Elixir

(30ml, worth £11.50) which stupidly I did not review at all despite it being such a cult product in the blogging world. It is essentially a facial spray that is packed full with natural waters and essential oils that smells both incredibly refreshing and instantly perks up the skin. I used to use this as my toner daily however with this travel size, I'm going to preserve it for when my skin is in need of a pick me up.
Next up is a product that I'm most excited about trying which is of course the

REN Flash Rinse 1 Minute Facial

(75ml, worth £32) which is the quicker acting sister of the REN Glycolactic Radiance Renewal Mask just without the quite as dramatic results. I've never used this before but after reading up a few reviews, I'm rather excited to start using it! To use, you simply dampen your fingers and apply the mask whilst gently massaging it in as you apply it. Leave it for one minute so that the Vitamin C can do it's thing before rinsing it off.
Another addition to the box is the

Glam Glow Youth Mud Exfoliating Mask

(15g, worth £15) which despite being a rather small sample, it definitely packs a punch! This is another product that I haven't used before either however it is a cult product that I should have tried out sooner. It's a grainy feeling texture that you leave on the skin for up to ten minutes before removing it off which essentially manually exfoliates the skin whilst also chemically exfoliating the skin from having left the mask on. After removal, the skin instantly looks more clear and radiant. I'm truly hoping that I don't fall head over heels in love with this product as the price tag for it in full size.
Saving the best till last are the

First Aid Beauty Facial Radiance Pads

(x28, worth £12) which I've been debating about purchasing for the longest time ever! These act very similar to the Nip + Fab Glycolic Fix Exfoliating Facial Pads which I've reviewed in full here albeit being slightly more travel friendly. Depending on your skin type, you can use these twice a day after cleansing to help gently exfoliate the skin which in turn will help make the skin appear more radiant. I'm literally so excited to start using these and I bet this will turn into a long love affair too!