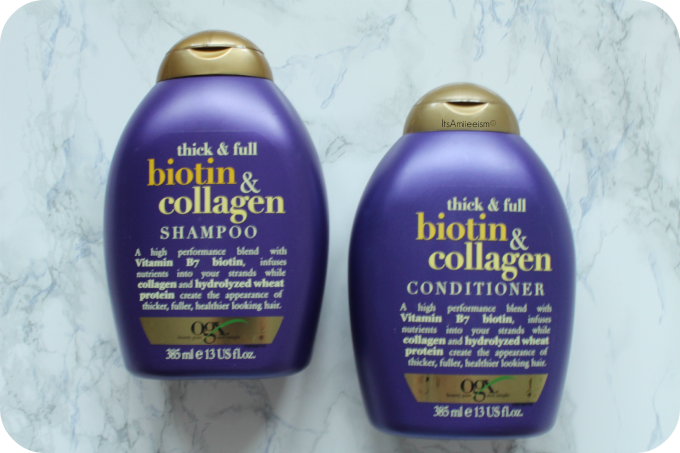 For the longest time ever, I've been struggling with my hair when it comes to making it look fuller and thicker without having to resort to using hair extensions. Whilst I have had some success with the likes of

L'Oreal Fibrology Shampoo + Conditioner

that promises to make hair appear thicker with every use as well as using the Charles Worthington Volume & Bounce Texturising Spray for days when my hair is feeling flat and thin however they're both just not cutting it. Fast forward to my daily wandering amongst Boots and I discovered that OGX have released some new ranges including the Biotin & Collagen Shampoo + Conditioner.
The OGX Biotin & Collagen Shampoo

+

Conditioner (£6.99 each)

is a high performance blend of Vitamin B7 Biotin that helps infuse nutrients into every strand of hair whilst the concoction of collagen and hydrolysed wheat protein helps create the appearance of thicker and fuller hair whilst making it healthier and adding some much needed dimension.
Whilst I pretty much get on with all duos, this one I haven't had much luck with purely because of the conditioner. The shampoo itself is brilliant however the conditioner is far too thick to even get out of the bottle. It's literally a case of I have to use my teeth to dispense the product and even then it's far too thick to spread through my hair evenly. Although with that being said, it sure does a brilliant job at making my hair feel ultra soft and nourished whilst appearing more healthier than before. In terms of thickness, it does make my hair feel slightly thicker come morning but it is short lived as it disappears almost entirely the minute you apply heat. If they made the conditioner just a little bit lighter in consistency then they would definitely be onto a winner however for now, I think I'll stick to L'Oreal Fibrology as I know that it works well for me.
Has anyone else had this problem or similar?