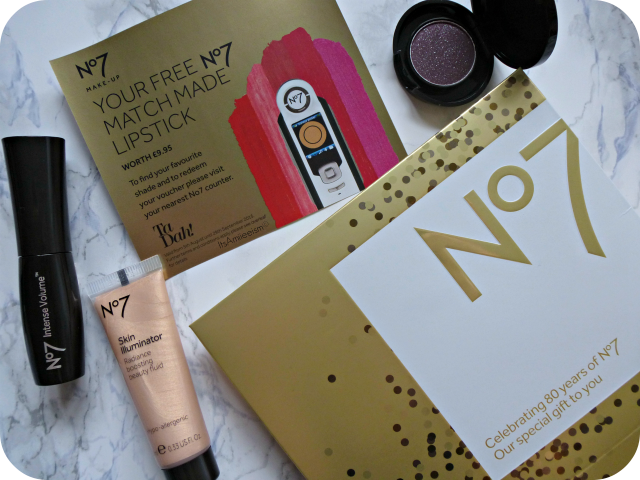 Who would have thought that No7 have been around for 80 years now, eh?! To mark this special occasion, No7 have brought out a limited edition collection specially for their 80th Anniversary which I will talk more into depth on a seperate post as well as a free gift which is yours when buying any two cosmetics. Now I know that I say this about all their free gifts however you will want to get your hands on this particular one especially as it contains a voucher to get a free lipstick!
In true No7 style, they've included a teeny sample of their Intense Volume Mascara which has a traditional bristle brush to help create lush, defined lashes without skimping out on the volume! As with all No7 mascaras, you can build it up until you've reached your desired effect. Also included is a sample of the Skin Illuminator Radiance Boosting Beauty Fluid which contains particles of iridescent shimmer which reflects the light to create a beautiful, radiant healthy glow. This is one of those multi use products that is handy to have as you can use it as both a highlighter, primer or even mixed in with your foundation.
Just like with all the previous gifts, they've thrown in an eyeshadow which is the bottom shade from the Stay Perfect Forest Fruits Trio which is a beautiful plum colour that is very glitter based which would finish off any intense smokey eye look. The last addition to the gift is one that makes this gift worth while to get as included is a voucher to receive a free No7 match made lipstick which is worth £9.95! You can either book your match made service to find out both your foundation colour and the perfect lipstick to go alongside it or you can just choose any lipstick that takes your fancy. Unforunately, this voucher is only limited to the Match Made Moisture Drench and Match Made Stay Perfect ranges so any of their heritage or sheer temptation shades are excluded altogether.
Will you be running out to get this awesome gift?