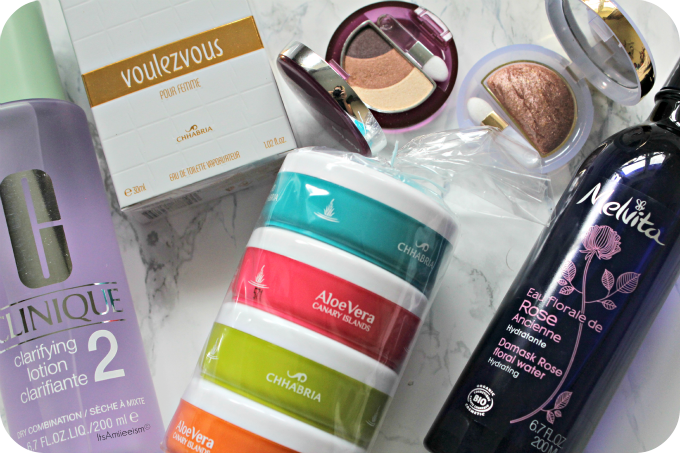 When on holiday, you have to take full advantage of the exchange rate and offers and do a little shopping which naturally I had to do! Where we were staying, there were a few Fund Grube stores which is essentially like Debenhams just not as big. At the time, they had slashed the prices over 1,500 beauty products which meant some serious savings were there to be had!
I took full advantage of this and decided that now would be he best time to get the Clinique Clarifying Lotion 2 which is specifically for dry combination skin. I've been reading a lot about their clarifying lotions and how they can either work wonders for your skin and wreck havoc. I personally don't take reviews for face value as everybodys skin is different so what may work for one person, may not necessarily work for the either so with that in mind, I'm keen to try it for myself. It's essentially an exfoliating toner that helps to remove dead skin to reveal brighter, more radiant skin. I'm really hoping that this works well for me as I do have high hopes for it. Next up is the Melvita Damask Rose Floral Water that has been on my wishlist for the longest time ever! This is a hydrating toner that you can either spritz directly on the skin or onto a cotton pad before sweeping it over the face. It's distilled from Damask Rose petals and is a astringent which will give you that tight feeling after applying without irritating the skin.
Anybody who has stepped foot in a department store will understand how pushy sales assistants are and the sales assistants in Fund Grubbe were no different, especially when it comes to making you buy fragrance! They were having some sort of special promotion on a new his and her fragrance which of course we had to smell and then somehow ended up buying. Its called Voulezvous Pour Femme by Chhabria which I believe has been exclusively for Fund Grubbe. The scent itself is rather hard to explain as I cannot find any information on it however it smells good and is one that lingers on the skin hours after spritzing.
I couldn't resist buying some makeup so I bought two eyeshadows from Collistar. The first being Kartell X Collistar Silk Effect Eyeshadow Trio in 70 Nudo Jelly which has a champagne colour, shimmer packed copper gold and a shimmer dark brown that looks beautiful together. The other being a Double Effect Eye Shadow that you can use both wet and dry in the shade 4 Beige Rosato which is a very shimmery gold bronze shade where the shimmer literally gets everywhere! Lastly, there was a promotion on at the till where you could get four travel sized face + body lotions for

€5 which of course were too cute to pass up! They're made in the Canary Islands and all contain extracts of aloe vera.. The blue one is aloe vera, the pink one is aloe vera with moscheta rose oil, the green one is olive oil and the orange one is aloe vera with karite butter