I've used up my very last bottle of the popular

Liz Earle Cleanse & Polish

which means that I'm all out of it now. I used this as my morning cleanser and I liked how it left my skin after each use. It's a very calming scent which is perfect for either morning or night time use. This is one of those products that I can definitely see myself repurchasing. I've finally used up the last few dregs of the Caudalie Beauty Elixir which I still haven't quite made up my mind on if I liked it or not. I found it to be a little overpowering to spray over my face as the scent of it is too strong and I noticed that I wasted quite a fair bit doing this way so I kept to spraying it on a cotton pad and sweeping it on my face. I wouldn't say this helped my skin but nor did it irritate it. I've finished a tube of the

Neutrogena Visibly Clear Spot Stress Control Daily Scrub

which helped with my break outs along with other products. It's more of a creamy exfoliator than a gritty one so it left my skin feeling soft and a lot brighter. Despite the scent to be a little offputting, I think I may repurchase this at some point. I've used up a bottle of the Lacura Aqua-Complete Multi Intensive Serum which I like to think as the cheaper version of Hydraluon to some extent. At first, this broke me out but after using it both day and night for the last few months religiously, my skin has gotten used to it. It's made my skin look a lot plumper and more hydrated and I think I will continue using and repurchasing this until I try out Hydraluron. It was a very sad evening which I used up the very last dregs of my beloved

Kiehl's Midnight Recovery Concentrate

as I've been using this every single night since I bought back at the

#NottsBBMeet

in April. This helped to calm my breakouts, give my skin a much needed boost of hydration as well as making it look more radiant. I will definitely repurchase this at some point in the near future!
I've used up a bottle of the

Aussie Miracle Hair Insurance Leave-In Conditioner

which I've been using primarily as a detangling spray for when I've washed my hair. This has helped to not only detangle my hair but also to condition it and give it some much needed moisture. This is honestly one of my holy grail products that I simply couldn't live without. It's taken a while but I've finally finished a bottle of the

Boots Build Up Removal Shampoo

which I use once a week mainly on a Sunday. This helps to rid my hair of any product build up and general impurities and help restore it back to its normal state. I will admit that it is rather drying but this can be fixed with a deep condtioning treatment afterwards which I always do. I will continue to repurchase this. I've finished up a tube of the

Superdrug Sensitive Whitening Toothpaste

which despite costing next to nothing, it gave brilliant results! This made my sensitivity go away almost whilst using this and it helped to whiten my teeth slightly. I will definitely be going back to this toothpaste ASAP. I've finished up a pot of Lush's Whoosh Shower Gelly which at first I did enjoy using it but after a while, I just got bored of it. It smells very citrus and it lathered up well but I doubt I would go out of my way and repurchase it again as it is just a novelty shower gel. I've used up my

Arora Body Butter in Pink Grapefruit

which I've been using since July. Despite this not smelling very much of pink grapefruit, this kept my body moisturised and it sunk into the skin well. This is definitely one of my holy grail products that I couldn't live without.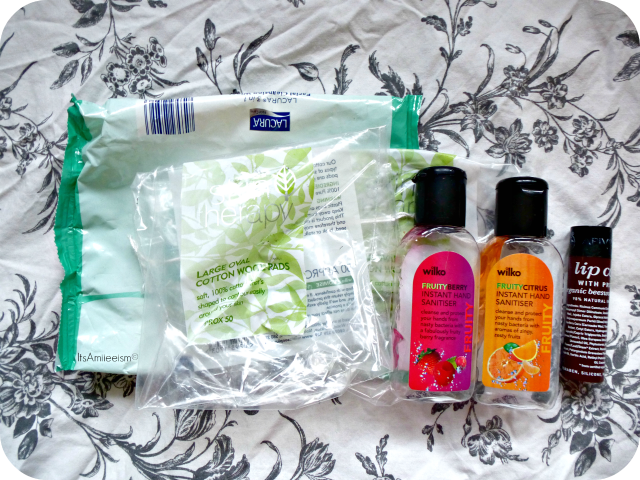 I've finished a packet of the Lacura 3-in-1 Facial Cleansing Wipes which appear in every empties post. I don't use these to take off my makeup but I do use for wiping foundation/general makeup off my hands as well as cleansing surfaces etc. I will forever continuepurchasing these as they are by far one of the moist wipes I've come across. I've finished two packets of the

Skin Therapy Large Oval Cotton Wool Pads

which are the only cotton wool pads I use now for my face. They're larger than the average sized one which means that you don't have to go through quite as many when it comes to taking off makeup except I keep one packet at home and one packet at Liams'. Just like with the wipes, I will forever continue repurchasing these. I've used up two bottles of my favourite

Wilko Hand Sanitisers

. I have these dotted about everywhere and I am forever using these. Despite it being such a simple product, I absolutely adore them and will continue to buy these. I've finished the Apivita Lip Care with Propolis which I rather enjoyed using. It's a really thick, natural lip balm that made it perfect for use at night time as you could still feel it on your lips come morning. I've kept this at Liams' since I received it at the

#NottsBBMeet

so it's definitely lasted a long time. I doubt I would repurchase it in this particular scent as I've got my eyes on the Rose one at the moment.
What products did you use up throughout November?