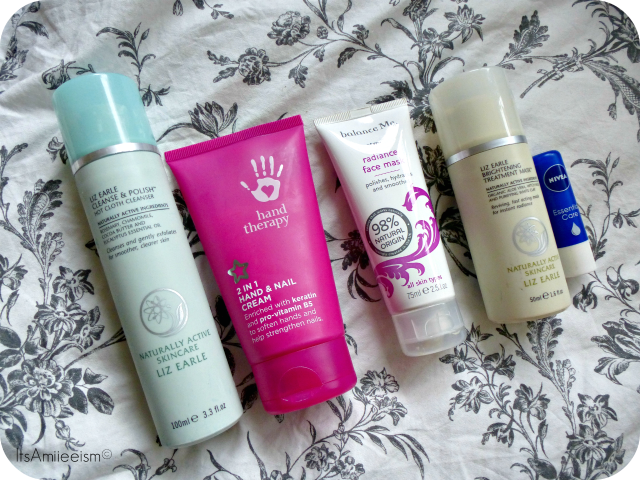 Throughout October, I've been suffering with really dry hands which is down to my new job as I need to open up cardboard boxes so I've been slathering my hands every night with my beloved

Superdrug Hand Therapy 2 in 1 Hand & Nail Cream

which does the trick. It's enriched with keratin and pro-vitamin B5 which helps to soften hands and strengthen nails which is exactly what I need as I've noticed that my nails haven't been looking as good as they normally are. I've also been suffering with dry lips too so the Nivea Essential Care Lipbalm has quite literally been a life saver. It contains jojoba oil and natural shea butter that helps to prevent moisture loss and keep your lips feeling soft, smooth and moisturised.
I've had a very slight shakeup in my skincare routine and I've now started using the

Liz Earle Cleanse & Polish

as my morning cleanse which has resulted in me loving it even more. It's a simple cream cleanser that is filled with many natural ingredients including cocoa butter and chamomile that just leaves the skin soft as a peach once massaged in and then washed off with a muslin cloth. I've found myself slathering on the

Liz Earle Brightening Treatment Mask

mores times than I can remember this past month as my skin has been looking very dull from the late nights and early starts at work which has also resulted in a few breakouts. I find that this mask helps to perk up my skin and make it look more radiant as well as reducing the size and redness of any blemishes that I may have. I think I will definitely have to repurchase this when I run out out.
The last product I've been loving throughout October is another face mask in the form of

Balance Me Radiance Face Mask

. This is a exfoliating face mask which does a variety of things for the skin including brightening, cleansing, softening and calming the skin. The scent is something that has taken me a long time to get my head around as at first I didn't like it but for the results, it's worth it. This leaves my skin looking more radiant than before as well as leaving my skin feeling soft to the touch. I like using this roughly three times a week and I can definitely see myself repurchasing this when I run out.
What products have you been loving throughout October?