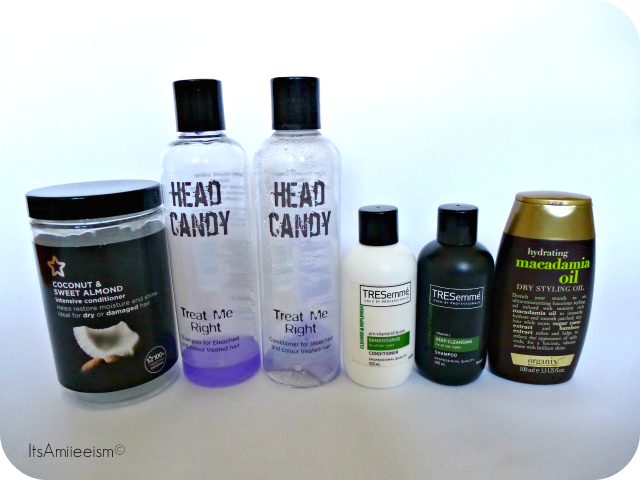 I've finally used up the last of the Superdrug Coconut & Sweet Almond Intensive Conditioner that I've had hanging around for quite a few months now. I used this primarily on a Sunday as my conditioner as that is when I tend to use a build up removal shampoo. I rather enjoyed this as it made my hair feel so soft and more manageable. I've finished the

Head Candy Treat Me Right Shampoo & Conditioner

duo even if it doesn't look like I have in the picture. I found this duo to do an okay job at cleaning my hair but I wouldn't rush out to buy it again as it didn't particularly wow me with the results. I've used up travel size Tresemme Cleanse & Replenish Shampoo & Conditioner which I've been using every Sunday since I took them away with me on holiday. I found this duo to do a really good job at removing any product build up without making my hair feel quite dry afterwards. I've finished up another bottle of my beloved

Organix Macadamia Oil

which has been the only oil that I've used primarily on my hair since August last year. I used this every time after I've washed my hair on the ends and it helped prevent any split ends as well as prevent any dryness. I will forever repurchase this.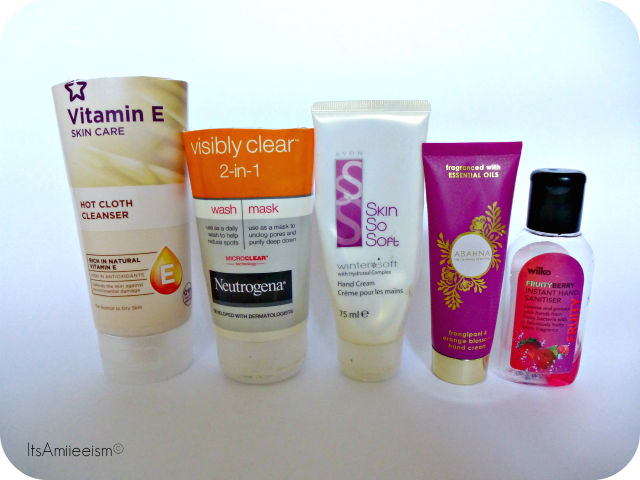 I've finished up another tube of the

Superdrug Vitamin E Hot Cloth Cleanser

which is definitely one of my all time favourite cleansers. This is a simple cream cleanser that not only cleanses the skin but it moisturises it as well which makes it the perfect cleanser to use throughout the winter as it contains a skin conditioning multi vitamin complex with various vitamins which helps care for dry skin. This will forever be repurchased! I've used up another tube of the

Neutrogena Visibly Clear 2-in-1 Wash & Mask

which can be used as either a face wash or an actual face mask. I tend to wash my face with this and leave it on for roughly five minutes before washing it as I find that it helps reduce any blemishes and it just leaves my skin feeling clean and soft. This is another product that will always be repurchased. I've used up a tube of the Avon Skin So Soft Winter Soft Hand Cream which has taken me a very long time to use up. It's a rich hand cream that takes a long time to sink into the skin and can sometimes feel greasy so I often used this before bed and wake up in the morning with really soft hands. I've also finished up another hand cream in the form of

Abahna Frangipani & Orange Blossom Hand Cream

which was very light in texture and smelt rather pleasant. I rather liked this hand cream as you could feel how moisturising it was instantly. I've used up another bottle of my beloved

Wilko Fruity Berry Hand Sanitiser

which I have on my vanity, by my bedside table, in my Zara bag and in my work bag as I love it so much! It smells like berries and gets rid of any bacteria on my hands. Despite being such a simple product, it sure does make me smile every time I use it.

I've finally used up the L'Oreal De-Maq Expert Cashmere Milk Make-up Remover which I've been using since March last year. I didn't particularly like this as I felt that it took forever to remove my make up and after each use, it left my skin with a greasy residue which nobody wants their make up remover to do. I've used up a bottle of Femfresh which every female should use! It's lightly scented and keeps you feeling clean. I've used up a travel sized tub of the Soap & Glory Flake Away which I thoroughly enjoyed! This is a rather gritty exfoliator which left my arms feeling so soft! I will definitely be buying this in full size as soon as I've finished my current exfoliator. I've finished up my final tub of the Austalian Bodycare Argan Cream w/ Vitamin E which I'm sad to see go. This is a rather thick moisturiser that left my skin feeling very moisturised and soft after each use. Despite the fact that I'm sad to have finished my little stash of them, I've already found something that has replaced it. I've used up a travel size bottle of the Soap & Glory Clean On Me Shower Gel which I actually used as a shaving lotion instead. This certainly helped get a closer shave on my legs and it left my legs feeling so silky soft which for that reason alone, I will definitely buy this in a full size. I've finished the Sure Maximum Protection Deodorant in Confidence which I don't think is as good as the hype makes it out to be. It did the trick most of the time but there were times when it didn't do as well as I wanted it to.
I've used up two Lacura 3 in 1 Facial Cleansing Wipes that features in every monthly empties post. I use these pretty much for everything apart from taking off my makeup. These are my favourite make up wipes which will forever be repurchased. I've used up two Salon System Individual Lashes Ultra Black Medium which are my go to lashes. I talk about these a lot as so many people comment on them thinking that they're my actual lashes. These will also be forever repurchased as I couldn't live without them. I've used up a packet of the

Skin Therapy Large Oval Cotton Wool Pads

which are the only cotton wool pads I use. They're bigger than most cotton wool pads which makes cleansing/toning/removing makeup with so much easier as you don't go through quite as many. Lastly, I've finished up a pot of the Pretty Perfect Twist & Out Instant Nail Polish Remover which is my favourite nail polish remover to use. It does the trick really quickly and I find that one pot lasts me quite a few months before it dries out. I've noticed that they've repackaged these and that they're now a smaller pot but it still contains the same amount.
What products did you use up throughout October?