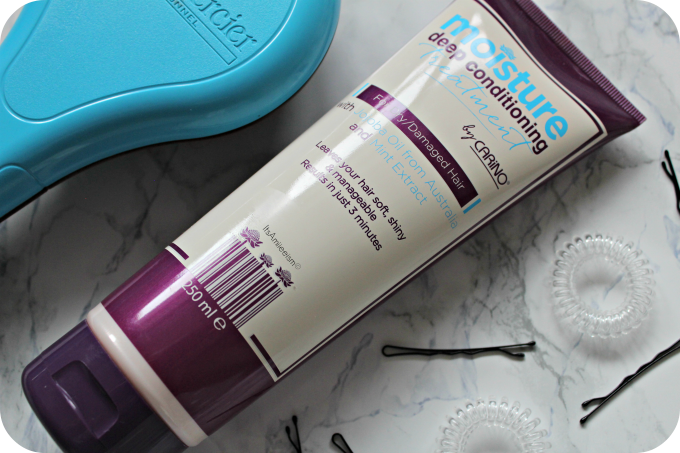 I'm pretty sure that everyone at some stage of their life has used a variety of Aussie's products before as they're forever on some sort of offer wherever you look and have a wider range of products to suit anyone and everyone. I used to be obsessed with their 3 Minute Miracles in particular their

Reconstructor

,

Shine

and

Take The Heat

offerings which are quite literally the bomb! However recently, I've had a huge overhaul on what I use on my hair so sadly, I've had to stop using their products altogether. So instead, I've been reaching for the Carino Moisture Deep Conditioning Treatment which is from Aldi from time to time which is practically the same but just a fraction of the price!
The

Carino Moisture Deep Conditioning Treatment (£2.49)

is targeted towards dry/damaged as it contains Australian Jojoba Oil and Mint Extract that promises to leave your hair silky soft and shine as well as being completely manageable with results in as little in three minutes. It helps to deeply condition your hair whilst leaving it looking healthy and full of life which I'm sure is definitely what we all want from a conditioner!
I tend to use this mainly when my hair is feeling a little worse for wear which is normally on a Sunday night after a week's worth of heat styling so I tend to dispense a generous amount and massage it into my hair before leaving it in for a lot longer than the recommended three minutes before washing it out entirely. Once washed out, it reveals beautifully soft hair that feels nourished and is manageable once dry. Whilst it may not smell like it's more expensive counterparts, I much prefer the scent of this as it smells more sweet almost like bubblegum. Overall, I do much prefer the Carino offering over Aussie's purely because of the fact that it comes housed in a squeeze tube and smells slightly better however it's only downfall is not offering enough varieties to suit a number of needs which is something that Aussie do cater for.