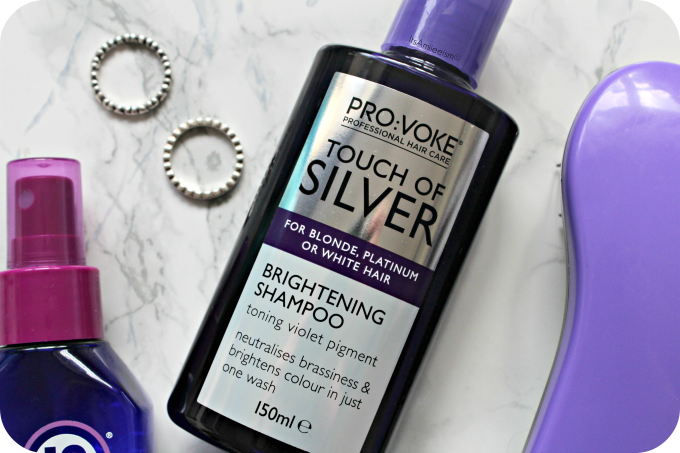 When I was younger, I loved having my hair done so I would often be seen rocking blonde highlights or blonde hair as I preferred how I looked with blonde hair. Nobody ever told me that I had to look after it and use particular products in order to maintain the colour. There were a few occasions where my blonde turned a brassy shade or even a faint shade of green from swimming too often. Fast forward a few years later and I like to think that I now know how to look after blonde hair in particular by making it brighter even weeks or months after getting it done.
I've been reaching for the

Pro:voke Touch Of Silver Brightening Shampoo (£3.19)

which is bright purple in colour that helps neutralise brassy, yellow tones with its toning violet pigment and helps brighten the colour in as little as one wash. It's recommended to use as part of a three-step regime as well as to only be used twice a week for no longer than three minutes. It's suitable for natural blondes and bleach blondes, platinum or white hair so regardless of what colour blonde you are, you can most definitely use it.
I personally don't use it twice a week as I tend to use it nearly every single time I wash my hair which is three times a week and I often leave it in my hair for ten minutes. As my ends are often bleached blonde, I find that they can look brassy quickly hence why I leave it in for a lot longer than the recommended time just to brighten them up quicker. You can end up with a slight purple tinge if you leave it in for too long or use it more often although I haven't had that happen just yet, touch wood! I absolutely love using this and I use it almost immediately after getting my hair done and by the time that it needs doing again, my hair dresser always comments as to how blonde it looks. If you're not using a purple shampoo and you have blonde hair then you need to start using one!