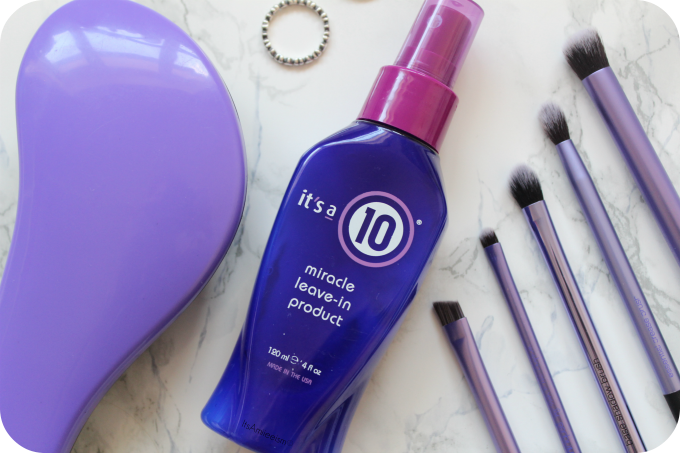 I've had quite the love affair with leave-in conditioners over the years and seem to stick to one for a few bottles before moving onto a new product and doing the exact same. It's a vicious cycle that seems to happen whenever I find something that works brilliantly the first bottle or so but after that, it no longer seems to impress me as much as it first did. Recently, I've found myself breaking that habit and instead of sticking to the same product every time I finish a bottle, I've been switching it up and using a new product altogether each time which has been working wonders for my hair. Recently, I've been reaching for the It's A 10 Miracle Leave-in Product which has been quite literally the saviour.
The

It's A 10 Miracle Leave-in Product (£11.75+)

is an American product that has slowly been making it's way across the waters and finding itself on UK soil. It's a spray on product that does ten things instantly including preparing dry and damaged hair; adding shine; detangling hair; controlling frizz; sealing and protecting colour; preventing split ends; stops hair breakage; creates silkiness; enhances natural body and can double up as a heat protection spray.
Whilst I have had this in my stash since America, it's only been recently that I've been reaching for it to give my hair an extra shot of conditioning after washing my hair. Since I've been using it, I've noticed that my hair has definitely appeared shiner and silkier to the touch and I haven't suffered with a lot of breakage too. Despite the fact that I do straighten my hair on the regular basis, it hasn't helped a lot with the split end situation but it definitely has helped transform my dry locks completely. I don't necessarily agree with it's claim of being used as a heat protection spray as it doesn't state which temperature it protects your hair up to however after straightening, I do like to spritz it in generously and then brush it out. Whilst it may be slightly pricey for a leave in conditioner, I do definitely think that it's worth it especially when you have coloured treated and heat damaged hair that needs a little something to bring it back to life.