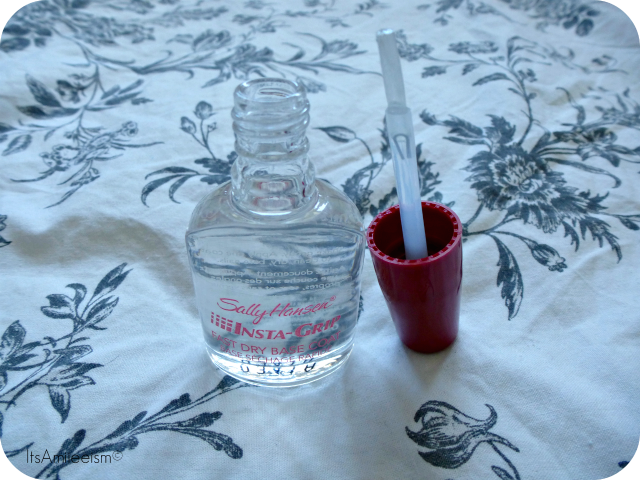 Before I started blogging, I had no idea that base coats and top coats ever existed when it came to painting my nails. I would just usually paint it on straight away and leave it as that. Little did I know, that was the main reason why I had badly stained nails especially when I was going my phase of wearing black nail varnish back at school. Nowadays, I apply a base coat and top coat religiously whenever I paint my nails as I want to prevent any staining and peeling from occuring.
The Sally Hansen Insta-Grip Fast Dry Base Coat has caught my attention quite a few times in recent months which is probably down to being featured on

RottenOtters' blog

quite a fair bit. The concept behind this base coat is that it only takes thirty seconds to dry. It is enriched with calcium and fruit extracts which helps to bond to the nail surface to help to strengthen and protect the nails.
I've noticed that since using this for the past two months, my nail varnish has lasted longer which could be down to a wide variety of things and not just the base coat. However, my nails haven't been peeling like they used to do with the OPI Nail Envy which featured in my

recent empties post

and they don't seem to be stained when it comes to taking off the nail varnish. My nails have always been rather strong so I haven't experienced chipping/breaking any nails whilst using this which is a good thing. Overall, this is a very good base coat and one that I will continue to repurchase unless I find anything better.
The Sally Hansen Insta-Grip Fast Dry Base Coat can be purchased from a variety of places for a variety of different prices. I personally use

eBay

as it's just under £5.