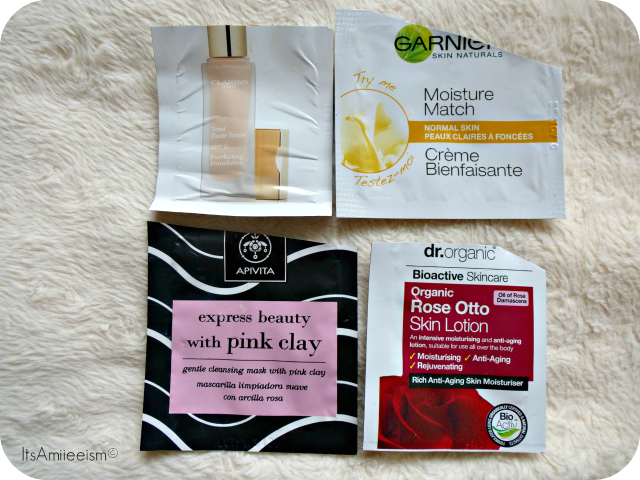 The

Dr. Organic Rose Otto Skin Lotion

* has been a sample that I've been rather skeptical about using as many rose scented products can either smell really good or really bad and sadly, this smelt really bad! This smells exactly like a hair removal cream I used years ago which had a very unpleasant rose scent. Scent aside, it does sink into the skin quickly and do an okay job at moisturising my skin. However, the scent does linger on the skin for quite a few hours after applying and I found myself catching whiffs of it every so often which I did not like. So for that reason, I would never dream of purchasing this on full size.
The

Garnier Moisture Match Protect & Glow Illuminating Light Lotion

* is a sample that I rather enjoyed using. This gave my skin a rather luminuous, radiant glow that stayed put for quite a few hours after applying. It felt really light on the skin and smelt so good! It's enriched with Vitamin B3, lemon extract and light reflecting pearls which helps to give the skin a more healthy looking glow. Even though this is for normal skin, I found that this was more than moisturising for my dry skin so I will definitely be buying this in full size ASAP!
I've finally got around to using a sample of the

Apivita Express Beauty Gentle Cleansing Mask with Pink Clay

* that I received in my

#NottsBBMeet Goodie Bag

. This is a face mask that helps to gently cleanse the skin without irritating it. It contains rose juice which helps to tone and rejuvenate the skin. I found that this sample was more than enough for two face masks however I stupidly applied all 8ml of it in one sitting which was far too much so I sadly didnt experience the full effect of it. This left my skin feeling cleansed however not as cleansed as it would have felt if I had just used a cleanser. It just felt like a normal face mask and for that reason, I wouldn't repurchase this.
The last sample I've used up is the

Clarins Everlasting Foundation

in 105 Nude. This is a medium to full coverage foundation that does a good job at covering up any blemishes which lasts on the skin for roughly 10+ hours depending on what primer I've used. I've managed to get roughly three full face applications out of this tiny sample which is really good going for a foundation sample. I find that when I first apply it, it is rather pale but then it oxidises/adapts quite quickly to my skin tone within seconds and it just looks perfect. I think I'll get a few more samples before I do shell out the money for it as it is a rather pricey foundation at £26.