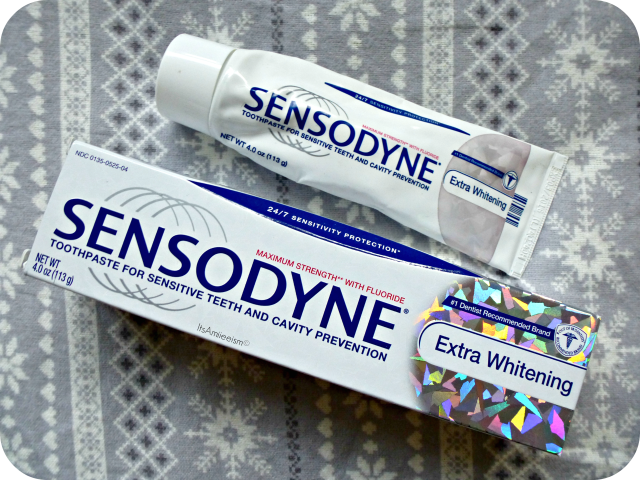 Whilst out in the States back in May, I ran out of my travel sized toothpaste so decided to pick up a full size to bring back with me. As my teeth were feeling more sensitive than normal due to the amount of Mountain Dew and Reeces Pieces, I bought the Sensodyne Extra Whitening Toothpaste which unforunately we can't easily buy here in the UK unless you fancy paying a ridiculous inflated price or buy it from the States with over the top shipping.
The

Sensodyne Extra Whitening Toothpaste ($4.72)

has been specially formulated for those who have sensitive teeth and want to protect against cavities whilst whitening their smile. It helps to provide relief from sensivity in as little as two weeks whilst removing stains for a whiter, brighter smile. It leaves the mouth feeling clan and fresh whilst the added bonus of fluoride helps protect against any cavities.
I've noticed that since using this, the amount of sensitivity I have has been greatly reduced with the odd flare up here and there when I drink an ice cold drink or eat something which is far too hot. I've also noticed that my teeth appear a lot more whiter whilst using this which could be down to a combination of using this as well as teeth whitening strips. Overall, this is a really good budget toothpaste that I will definitely be picking up again when I'm next in the States.