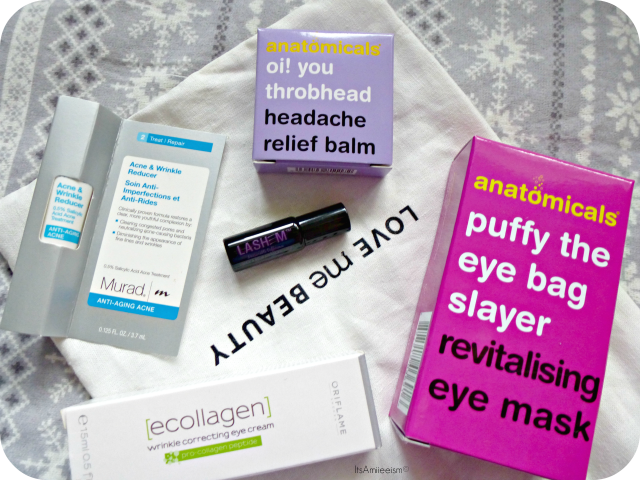 Love Me Beauty have recently gone through a repackaging/rebranding phase where instead of eco-friendly packaging, their products now come in bags similar to Birchbox albeit more simpler. They're also going to be packaged into fancier boxes starting next month so I'm excited to see how they turn out. In addition to this, instead of choosing which edition menu you wanted each month, you now get to choose exactly what products you want with the credits they give you so you can get four/five products each month. If that is not enough, they can also let you add additional products at a cost. This concept is both different but annoying as it comes on a first served basis so if you see an item you want, then I would add it to your box and the rest ASAP as they go out of stock within hours. With that being said, I thought I would share what I picked for my September Love Me Beauty Box.
As I gave my original sample of the

Lashem Lash Enhancing Serum

away to a friend in desperate need of growing her lashes, I decided to get another one just to keep on hand for when my own lashes are looking a little short. As it's only a 2ml sample, I expect it would get used up within a few uses but I'm hoping a little goes a long way.
I'm quite annoyed that I picked another

Oriflame Ecollagen Wrinkle Correcting Eye Cream

as I already have one from the

August Box

but in my defense, it was packaged and named something different altogether. I still have not yet tried this but I'll be keeping one at the other halfs as I've just finished my eye cream so I'm hoping this will do the job nicely.
As I'm stepping up into a higher role at work, I've been getting rather stressed which has resulted in getting lots of headaches so picking the

Anatomicals Oi! You Throbhead Headache Relif Balm

couldn't have come at a better time. It's completely natural so there are no adverse side effects and it smells very similar to Tiger Balm.
Another Anatomicals product I picked purely to bump up my box is their

Puffy The Eye Bag Slayer Revitalising Eye Mask

which is a gel filled eye mask that you simply pop into the fridge beforehand and apply it on your eyes to really help reduce your puffy eyes. I don't personally suffer with puffy eyes but I expect this would be nice to pamper myself with which is the only reason why I chose it.
The last item I picked is a sample of the

Murad Acne & Wrinkle Reducer

which contains a clinically proven formula to help restore a clear, more youthful complexion by clearing congested pores and neutralising acne-causing bacteria as well as diminishing the appearance of fine lines and wrinkles. I chose this more so for the acne properties rather than the anti-aging however I think you're never too young to start using anti-aging skincare.
Overall, I liked the concept of this month although there wasn't enough new items as they were all simply ones from previous boxes where they had a lot of excess. I'm hoping Octobers selection will be better as if not, I will be cancelling my subcription and subscribing to a different beauty box altogether.