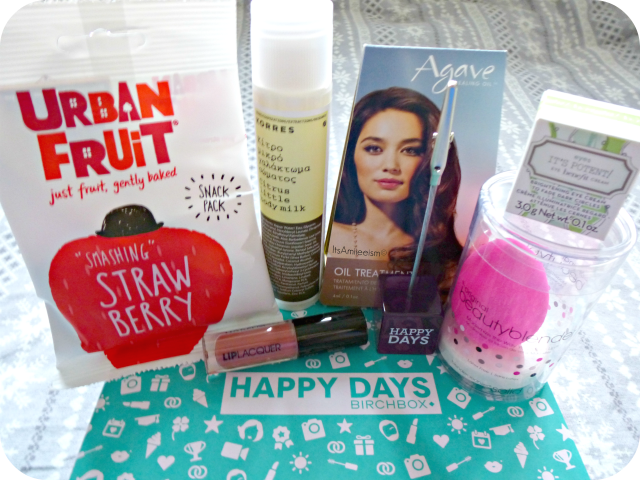 Following on from the success of August's Birchbox, this month has certainly not disappointed! This months theme is based on Happy Days which celebrates capturing those special moments and making new ones whilst reminding us to embrace the month with the attitude that we're never too old to learn.
I've been lusting after the

Original BeautyBlender with BlenderCleanser Solid

for what feels like months and I'm so grateful that I finally have it in my possession! The sponge itself is shaped like an egg which ensures a flawless base with no streaks. It also comes with the solid soap to help clean it which apparently gets rid of all foundation marks so I'm excited to see whether this will work with all my Real Techniques Miracle Complexion sponges as no amount of cleaning will get rid of those stubborn marks.
Everybody received a wee little pot of the

Benefit It's Potent! Eye Cream

which helps to banish dak cicles, smooth out fine lines and protect against free radicals with this light weight, peptide packed formula which sinks into the skin almost instantly after applying. As I'm feeling a little swamped in eye creams (don't ask!) I'll be reserving this for when I go to America next year as it's the perfect size for the amount of days I'll be away for.
I've never tried anything from Korres so I was intrigued to see their

Citrus Body Milk

included in the box. It's a light lotion that not only smells divine but does divine things for the skin! As it contains both almond oil and shea butter, it helps to hydrate and smooth skin which is perfect for using after a bath or shower. Once again, I'll be taking this away with me to America as it's the perfect travel size.
I received a tiny deluxe sample of the

ModelCo Lip Lacquer in Morocco

which is a nudey pink shade that it both very sheer on the lips and doesn't feel sticky. The formula itself provides long-lasting colour colour and hydration with plenty of shine. This is a beautiful colour and one that I'll be laying over similar colour lipsticks to get the full glossy effect.
I also received a deluxe sample of the

Agave Healing Oil Treatment

which is a lightweight oil to help smooth hair, build resiliency and boost shine and colour whilst reducing the appearance of split ends. I have more than enough hair oils to use at the moment so I'll definitely be taking this away with me to America next year.
As a few lifestyle extras, Birchbox threw in their own

Happy Days Photo Clip

to help brighten up the room whilst displaying a photo filled with happy memories. They also threw in a treat sized bag of Urban Fruit of which I received

Smashing Strawberry

. I'm not a big fan of fruit but I'm hoping this will make me want to eat more fruit whether that be in a snack pack or not is another question..
Overall, I'm thoroughly pleased with this months Birchbox and I'm so glad that I got a huge variety of products that I haven't tried before. I wonder what Birchbox will be putting into their October box as nothing can beat this months in my eyes.