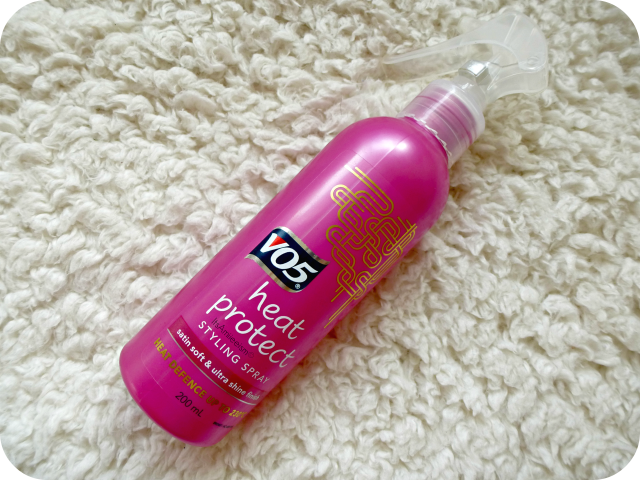 When it comes to styling or heat products, I've always remained loyal to Tresemme and have repurchased their heat defense numerous times but in true beauty blogger tradition, I decided to branch out and try something different. It's not that I disliked what I was using, I just wanted to try something new so I settled with the VO5 Heat Protect Styling Spray after reading numerous rave reviews of it.
The

VO5 Heat Protect Styling Spray (£3.69)

helps protect your hair against heat damage whether that be from an occasional blow dry to regular heat styling. As it contains a heat activated complex, this makes styling a lot easier and quicker whilst calming frizz, static and flyaways all whilst providing a long lasting shine.
What I personally like about the VO5 Heat Protect Styling Spray is that it protects your hair with heat up to 230°C whereas the majority of the others claim to protect your hair up to 220°C. Although this may not be a huge difference to most, it's a huge difference to me as when I recently got my hair cut, my hairdresser commented on the lack of split ends and that is with using heat every day. I've noticed that since using this, I don't suffer with a lot of frizz or flyaways which I've been struggling to maintain for a while now and my hair always has a shine even a few days after washing it. As it is cheap as chips, I can definitely see myself repurchasing this once I've finished up a few more heat defences as it truly is a brilliant, budget heat defence spray that I think everybody should try.