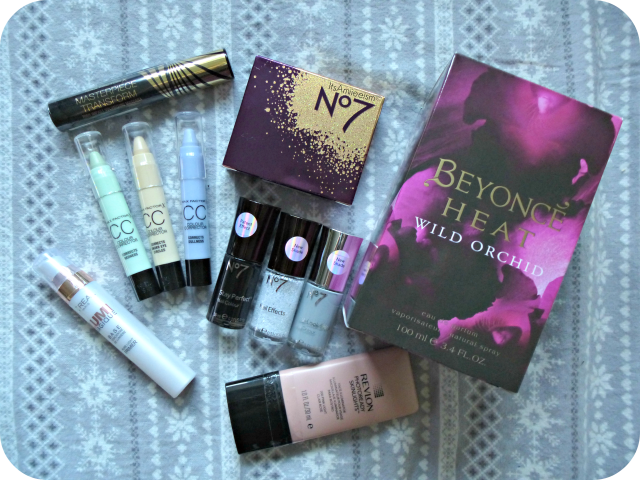 It may seem like a few months ago that I shared any kind of haul post but realistically, I'm buying things all the time but only a few things here and there. As Boots are now doing their advantage card evenings where you get £12 worth of points for every £50 you spend, I thought I would take advantage and stock up on a few essentials and splurge on a few things that I've been wanting for a while.
As it's currently three for two across all makeup, I picked up three of the Max Factor CC Colour Corrector Sticks in Blue, Green and Yellow which help to hide a multitude of sins. I already own one in blue but I thought I better pick up a backup as I love it that much. I also picked up a backup of the L'Oreal Lumi Magique Pure Light Primer which is the only primer I use as well as another Revlon Photoready Skinlights Face Illuminator in Pink Lights which I prefer to mix in with my foundation. As if I don't have enough mascaras, I couldn't resist picking up the Max Factor Masterpiece Transform High Impact Volumising Mascara which will hopefully give me the volume that my lashes need.
I had a few £3 off No7 makeup vouchers floating around in the bottom of my bag so I thought I better use them up and treat myself to some new No7 makeup. I decided to get three of their newest nail varnishes in Black Patent, Grey Mist and Snow Wash. Snow Wash literally looks like snow especially when put over Black Patent which is the nail combination that I'm rocking at the moment. I noticed that No7 had brought out a new limited edition palette called Radiant Spheres Highlighter which comes in beautiful packaging. The product itself is a mixture of shimmering gold and white which will look beautiful on the cheeks especially over the festive season. Lastly, I picked up a new fragrance in the form of Beyonce Heat Wild Orchid which I couldn't resist. It's a mixture of fruits combined with flowers which makes it such a beautiful scent.
Have you bought anything from Boots recently?