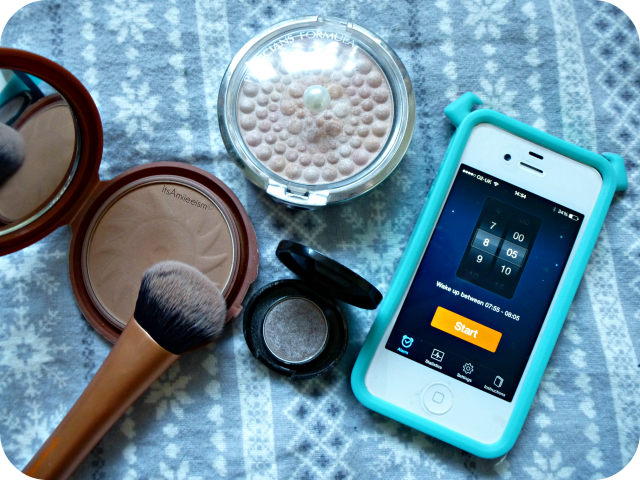 October has been a very busy month as I've found myself landing a promotion at work (whilst still having to do my old role alongside it) which whilst I can't complain about it, it's meant that my workload has increased meaning that I haven't had a lot of time to blog. Although saying that, I have been spending an awful amount of time on Hay Day recently.. With all that being said, I thought I better share what I've been loving throughout October.
I've found myself switching up a few brushes and I've discovered the the Real Techniques Expert Face Brush is a brilliant brush to contour with due to it it's wide, stiff and defined shape. As always, I've been contouring my face with the

NYC Smooth Skin Bronzer in Sunny

which I'm very slowly starting to hit pan on! This is the perfect bronzer for any pale face beauty as it doesn't look orange or muddy on the skin.
I've been reaching for the

Physicians Formula Mineral Glow Pearls Highlighter in Translucent Pearl

to add some much needed glow to my face. A light hand is key to this as I have been known to go in rather heavy handed which has resulted in many discoball distasters. As I don't like wearing mascara on my bottom lashes these days, I've been defining them slightly by using the middle shade from the No7 Stay Perfect Eyeshadow Trio in Good Earth. The shade itself is a beautiful bronzey taupe shade with a hint of rose gold which finishes any eye look.
My last favourite of the month is actually an app which I've been using every time I go to bed called Sleep Cycle. It's a intelligent alarm clock that analyzes your sleep and wakes you up when you're in the lightest sleep phase. It monitors your movement whilst you sleep which in turn tells you your sleep quality, how long you were in bed, how often you were in a light/deep sleep. I personally find it quite helpful as I've realised certain factors cause me to have a light sleep whereas other things help me have a deep, fulfilled sleep.