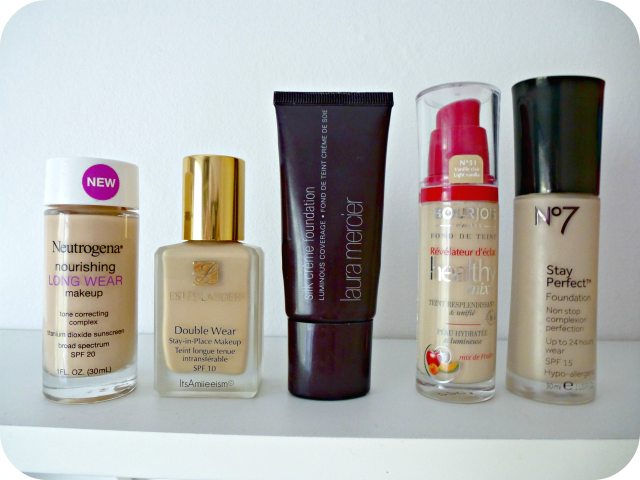 As the dark nights are getting closer and the need to wrap up warmer becoming ever more frequent, I've found myself rotating between a select few foundations recently which is unheard of, even for me. Now unlike most, I opt to mix my foundations together to achieve a better result which has resulted in falling back in love with foundations that I deemed an utter failure. As I can't see myself using anything else for the time being, I would like to introduce you to my winter foundation wardrobe.
The

Neutrogena Nourishing Long Wear Makeup ($14.99/£9.46 for 30ml)

is my most recent addition and is one that you can only pick up in the US sadly. It is a pour style bottle which you don't run the risk of pouring out too much due to how thick the texture is as it's not quite a thick mousse and it's not quite liquid either - it's in the middle of the two. As it's quite thick, the coverage it gives is medium coverage which you can either mix in with your daily moisturiser to sheer it out slightly or layer it up to give fuller coverage. For reference, I use the shade Classic Ivory which is the lightest shade they do yet it's quite yellow toned but when mixed in with say Bourjois Healthy Mix Radiance Reveal Foundation, it evens it out nicely. However when by itself, it can be a slight pain to blend and buff it all in nicely but a little elbow grease never hurts anybody. The finish of this can look quite natural if you don't apply too much however in most cases, it would leave the skin demi-matte with a bit of a glow. In terms of longevity, it lasts pretty much all day and that is without powder.
The

Estee Lauder Double Wear Foundation (£29.50 for 30ml)

is the only foundation that I don't use all year round and instead only dig it out when the winter months roll around. It's a pour style bottle which means that you do run the risk of pouring out too much due to how liquidy the foundation although apparently a MAC Pump will fix your foundation pouring woes apparently. Many people deem this to be the fullest coverage foundation they've encountered but I would personally say that this is inbetween both medium and full coverage which you can sheer/build it up depending on which you prefer. For reference, I use the shade 1W1 Bone which is very yellow toned but when blended out, it matches me almost perfectly. The texture of this means that you have to work quickly in order to buff it all in as I find that it sets rather quickly. The finish of this is quite matte but it somehow lets your skin show through without feeling heavy. I find that this lasts almost all day with minimal touch ups and that is using both a primer and a powder.
The

Laura Mercier Silk Creme Foundation (£34 for 35ml)

is the only foundation that I have a love hate relationship with and has taken me the best part of a year to figure out if I love it or hate it since my inital review. As it's a squeezy tube, you can control how much you squeeze out which means that you won't necessarily waste it. I would deem this to be a full coverage foundation which unlike most, you really have to work at blending it all in due to the mousse like consistency. For reference, I use the shade Rose Ivory which matches perfectly when I first apply it but fast forward a few hours and it will have changed shade completely so this is something to consider when buying. The finish of this is quite glowy as it contains light-reflecting properties which helps add natural looking highlights to your face without looking overly greasy/discoball. I can easily go almost ten hours whilst wearing this foundation and that is with both powder and primer with minimal touchups.
The

Bourjois Healthy Mix Radiance Reveal Foundation (£9.99 for 30ml)

is by far my most repurchased foundation of the lot as I'm currently on my third bottle. As the foundation itself is a pump dispenser, you only need a few pumps worth for the full face which makes it by far one of the more cost effective per use foundations. This is more on low to medium coverage which you can definitely build up to a fuller coverage if need be. As it's a liquid, it doesn't take a lot of elbow grease to blend it. For reference, I use the shade 51 Light Vanilla which matches me perfectly in some lights whereas in others it can be a little pale. The finish of this is rather dewy as it gives off the whole glow from within and creates a luminous base. I mainly use this foundation as my mixer and will mix it with other foundations as I love the finish it gives. I can get roughly seven hours wear from this foundation when worn alone with both primer and powder which is standard.
The last foundation featuring in my winter foundation wardrobe is the

No7 Stay Perfect Foundation (£14.50 for 30ml)

which is one that I least like out of the bunch but I still continue to use it. Just like with the Bourjois offering, the No7 version has a pump dispenser but comes enclosed in a glass bottle so it doesn't make it the most travel friendly foundation. This is more on the medium side of coverage but it can definitely be built up albeit it will look a little cakey especially after the second layer. I find that it blends in with ease although you do need to take extra care around the nose and eyes as it tends to settle in fine lines. For reference, I use the shade Calico which again can match me perfectly or appear too pale depending on the lighting. The finish of this is inbetween matte and radiant as it just makes your skin appear flawless but without the heaviness on the skin. It claims to last for up to 24 hours but who really wears foundation for that long, seriously. I find that it lasts about ten hours or so with primer and powder as well as minimal touchups on the cheeks and under the eyes mainly.
Which foundations will you be using this Winter?