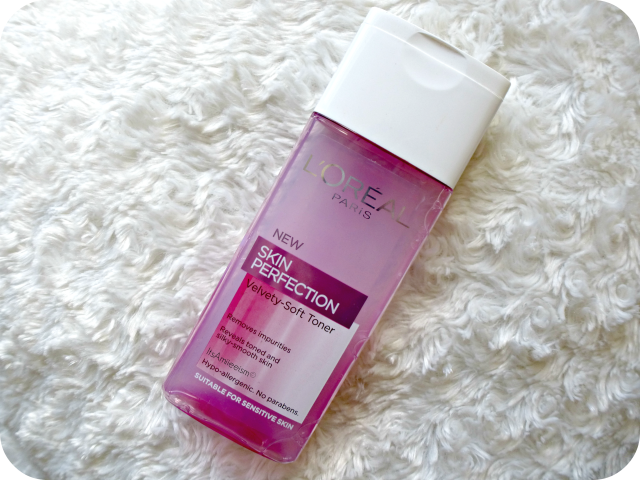 I've been trying to vary my skincare routine and use different products from both drugstore and highend in order to find my holy grail routine. Whilst this does consist of a lot of trial and error, I am actually enjoying finding out which products work for me and which ones don't. One of the products that I've been trialling for what feels like the longest time ever is the L'Oreal Skin Perfection Velvety-Soft Toner
The

L'Oreal Skin Perfect Velvety-Soft Toner (£3.99)

is a toner that is infused with softening actives that help tone the skin and remove impurities whilst soothing the skin making it suitable for even the most sensitive of skin without dryness or any discomfort.
Now I wouldn't say that I have sensitive skin as it's actually quite far from it however this toner and my skin do not go! Immediately after the first use, my skin felt dry and tight in places which resulted in piling on many hydrating serums and oils in order to get my skin back to where it was. This was a vicious, continuous circle which carried on for about a few weeks until I could not take it anymore. The reason being is that this was breaking me out horribly which I've only now just overcome completely. This was the only new product in my routine and I changed nothing else so I blame this entirely for my break outs. Bearing in mind, I started using this at the beginning of last year, I cannot bring myself to finish using it in fear that it will break me out again so I'm chucking it out after having it on my skincare shelf for what feels like forever. Now despite this not working at all for me, this could work wonders for you so it's definitely worth using it with an open mind.