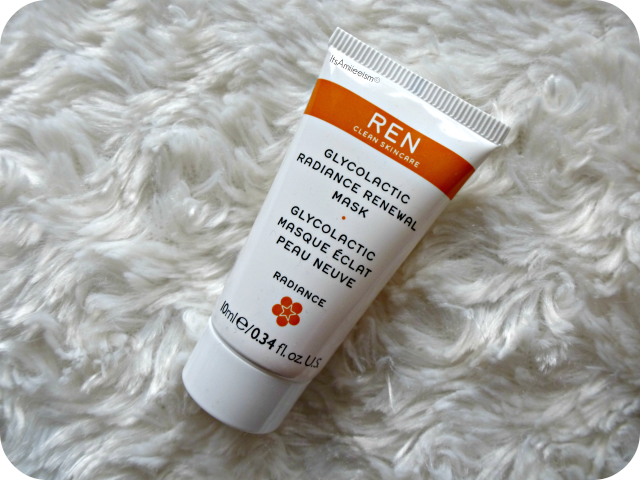 I'm a huge fan of anything that promises radiant looking skin whether it be makeup or skincare, you name it and I'll try it! The REN Glycolactic Radiance Renewal Mask is infamous across the blogging world as being the facemask to give you more radiant looking skin. I've actually tried this before and I thoroughly loved it but after receiving another sample of it, I couldn't resist popping up a quick review on it.
The

REN Glycolactic Radiance Renewal Mask (£32)

is a potent bio active peel mask designed to renew the complexion, reduce the appearance of fine lines and dramatically improve skin tone. Unlike other face masks that I've used in the past, this has the exact same consistency to marmalade in texture and colour so it does feel a little weird at first applying it.
I like to apply a generous amount of my face ensuring that I cover everywhere except for around my eyes for obvious reasons and leave it on for a little under ten minutes or so. Once on the skin, it can start to tingle in areas which can feel a little alarming but it just means that the mask is doing its magic. After ten minutes or so, I like to wash it off with a damp muslin cloth which reveals instantly brighter, smoother looking skin. I prefer using this once a week which helps keep my skin smoother and brighter for longer and also helps with evening out my skintone. I doubt I would ever purchase this in full size due to it being quite expensive but for the time being, I'm happy having a deluxe sized sample in my stash again.