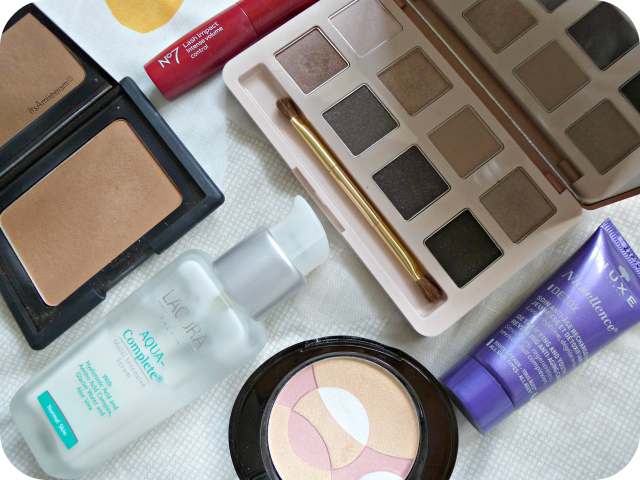 March has been one of those months where I've truly felt content despite all the drama at work and the constant changing of the weather. I've spent the month truly embracing spring and as such my favourites reflect that - hydrated skin with a lot of bronzey goodness!
Regardless of how much I declare my love for Hydraluron, the

Lacura Aqua-Complete Multi Intensive Serum

will be the one that stole my heart - it's watery goodness quenches my skins thirst and makes my moisturiser sink in that little but further. Combine the two together and you've got yourself a very hydrating, moistursing sinking duo! I've secretly been having an affair on my oils with the

Nuxe Nuxellence Detox

which has completely transformed my skin. I liken it to the Lancome Visionnaire albeit in a more nourishing, thicker consistency which actually shows results the very next morning! Despite taking the oathe of "I must test this for six weeks to see if my skin agrees with it before repurchasing" that us beauty bloggers were sworn to, I've already bought the full size after Escentual were having such a good deal on it.
I've been embracing the bronze goddess look for the best part of March so I've been swirling my brushes in

NARS Laguna

and applying generously all over to achieve a healthy bronzed look. I will admit and say that this still does break me out although not quite as much as before *touch wood* so I can easily wear it for a week straight before slathering myself in all my blemish busting potions. In conjunction with said bronzer, I've been dusting the tops of my cheeks with the

No7 Radiant Spheres Highlighter

which sadly you can no longer get your mitts on. It's the perfect golden, glittery highlighter that instantly finishes any look which is down to it's mixture of three different shades. I like to sweep this a few times on the tops of my cheeks to get an intense highlighted finish which goes ever so well with my bronzed, chisled cheeks.
Thoroughout March, I've been playing about with eyeshadow and I've now found myself religiously reaching for the

No7 Mini Eye Palette

which again was limited edition and can no longer be bought. My two favourite shades from the palette is the Mink shade (First row, second shade) and the Brown shade (Bottom row, first shade) which when applied together, creates the most subtle smokey eye look which compliments my eyes nicely. Lastly, I've been applying the

No7 Lash Impact Mascara

daily which gives intense length and volume whilst defining the lashes to create the appearance of false lashes. I like to really spend my time whilst applying this as I find that the longer I take to ensure that every lash is coated, the better the effect will be.