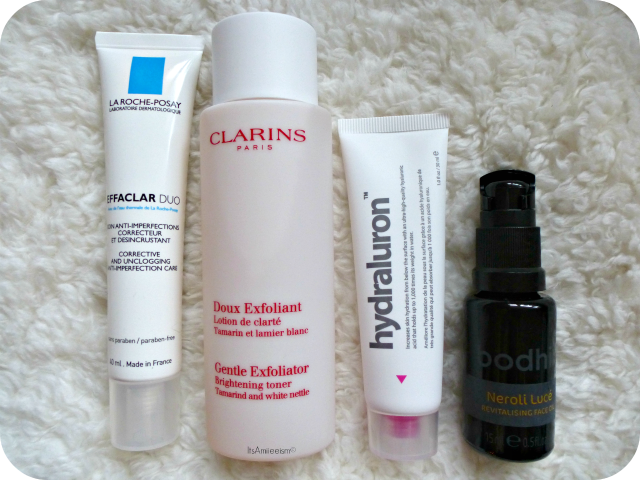 Everybody and their dog has been raving about Hydraluron these past few months and after a naughty splurge on the day before Christmas Eve, this bad boy was finally mine. It's a gel like consistency that can hold up to 1000 times its weight in water as it mainly contains Hyaluronic Acid among other things. It basically acts act like a magnet to anything you apply on top of it and makes it stay there. I've been using this now for about three weeks and I haven't noticed a huge difference in my skin as it's probably because I've been using this as well as a potential dupe of it

(post coming soon!)
Another blogger favourite which has got quite mixed reviews is La Roche Posay Effaclar Duo which supposedly is incredible for banishing spots and helping to clear up skin. This is very light weight in consistency which doesn't feel sticky after applying it nor does it slip and slide like other spot treatments or dry out the skin after use. Whilst I do love it for what it does, I do think that this is the prime suspect for my break outs which quite a few people have also experienced whilst using it.

I'm going to stick at it for a few more weeks before I review it.
I've had the Bodhi Neroli Luce Revitalising Facial Oil in my stash ever since I received it at the #NottsBBMeet last year and it's only after I finished my beloved Kiehl's Midnight Recovery Concentrate as well as a few samples, that I finally

cracked it out.

I've just used this a handful of times so far but so far, so good. It's very strong smelling and is bright orange which can be

look a

little daunting at first I must admit. I haven't noticed any differences yet but tha

t's probably down to only using it a handful of times.
The last recent addition to my skincare routine is the infamous Clarins Gentle Exfoliator Brightening Toner which is a lot easier to get hold of than Pixi Glow Tonic and is cheaper than Alpha H Liquid Gold. I've been using this both morning and night for the past few weeks and although using it that often isn't recommended, my skin hasn't looked and felt better. It's looking a lot brighter in the mornings and I'm finding that makeup applies better

in some sense. I will have a review up of this very soon.