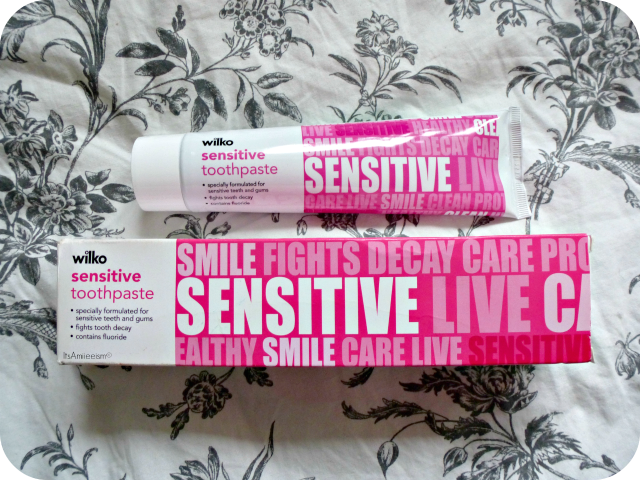 For those of you who don't know me, I have rather sensitive teeth which has definitely become worse over time. Drinking cold drinks and eating icecream were out of the question as every mouthful/sip gave an instant cold sharp of pain which become worse the more I ate/drank. In a quest to overcome the situation, I'm road testing a few toothpastes targted for those with sensitive teeth to see which ones I like and which ones that I dislike.
The Wilko Sensitive Toothpaste has been specially formulated for people with sensitive teeth and gums. When used regularly, it can help fight tooth decay and protect against cavities, plaque and tartar whilst helping to strengthen the tooth enamel and protect the gums. Like most toothpastes, this contains fluoride which gives it a minty taste which leaves the mouth feeling clean and minty fresh.
I've been using this toothpaste for under two months and I definitely think it's the case of you get what you pay for which for the record is 80p. The packaging is very basic and doesn't look at all appealing which is sad as I really do rate Wilko products. The toothpaste itself has a standard minty taste which doesn't taste powdery like some toothpastes. Whilst it did help with my sensitivity, I don't feel that it left my mouth feeling really clean despite investing in an electric toothbrush and mouthwash. For that reason and that reason alone, I won't repurchase this and I wouldn't recommend it either.