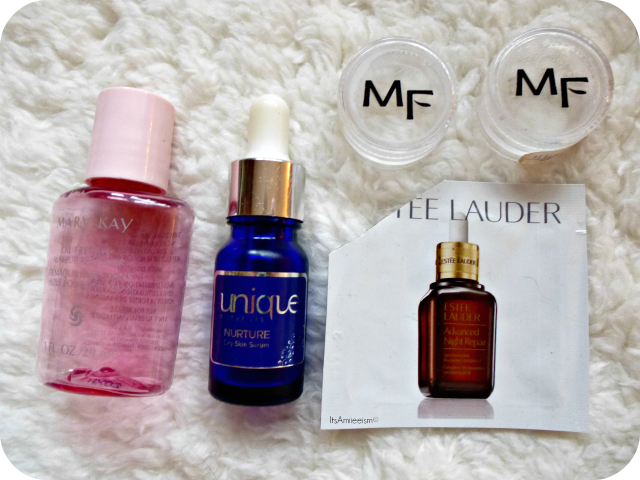 I've had a little sample of the

Mary Kay Oil Free Eye Makeup Remover

hanging around for the longest time which I never seemed to bothered to use. That was until I started wearing liquid eyeliner teamed with stubborn waterproof mascara that I finally dug it out and started using it. This literally dissolved the bulk of my eye makeup and removed the majority of it within seconds which surprised me especially on my first use. I always associated Mary Kay with older women but after trying out this, I definitely won't mind splashing out the £13 for something that removes eye makeup so quickly.
For my birthday, I received the

Unique Naturals Skin Serum Collection

and I've since used up

Nurture

which is aimed towards dry skin. At first this smelt very strong and felt far too heavy for my skin but after using it a few times, I started to get used to it and enjoy using it. I do think that this helped inject some much needed moisture back into my dry skin but I doubt I would purchse it in full size as I want to branch out and try different facial oils.
Speaking of facial oils, I've tried a little sample of the

Estee Lauder Advanced Night Repair Sychronized Recory II

which I think I'll need to try a few more samples of before I even think about purchasing. It's the reformulated version of the original where it is much lighter in consistency, not quite as silicone heavy and absorbs into the sink quickly. For me personally, I don't think it did much for my skin apart from it leaving my skin really soft come morning.
I've used up two sample pots of both the

Estee Lauder Illuminating Perfecting Primer

and the

Estee Lauder Matte Perfecting Primer

. I really did enjoy both these samples as I found that the matte version was perfect for around my nose area as it meant that when I used DW, it wouldn't look cakey and the illuminating version I used primarily on the tops of my cheek bones. I did actually buy the Illuminating version in full size but have since returned it as whilst I do think they're worth the money, I personally would get through both of them far too quickly and would much rather settle for a cheaper alternative. Note - my local EL counter ran out of sample pots

and pinched a few from the Max Factor counter hence why they're in MF pots.