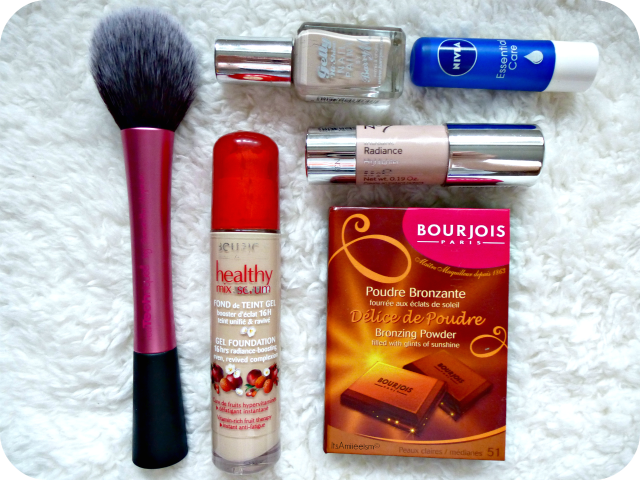 2013 saw me build up my Real Techniques Collection and I pretty much have them all via the Starter Kit for obvious reasons. The stand out brush for me has definitely been the Blush Brush which I use primarily for contouring/applying bronzer. It's a large brush which is slightly tapered at the end which for me is perfect for using it with a bronzer. The only bronzer that I've been using the Blush Brush with and the only bronzer that I really have used throughout 2013 is the

Bourjois Chocolate Bronzer

. It's the perfect bronzer that would suit a variety of skin tones which can be built up whilst not looking muddy at all. It's the perfect bronzer as it looks and smells exactly like chocolate and who doesn't want a product that smells edible eh? Following on with the Bourjois theme is the infamous

Healthy Mix Serum Foundation

which has been the stand out foundation of the year for me. It's a light weight, medium cover foundation which perks up the skin whilst giving it a natural finish. It's the perfect all rounder foundation which I urge everybody to try!
A slight cheat product as I only discovered this in December is the

No7 Instant Radiance Highlighter

but it's definitely made its way to be a stand out product for me. It's the most beautiful candlelit ivory/champagne shade which just looks stunning on the skin and lasts for absolutely ages. I'm a lover of both nude lips and nude nails so when Barry M released their Gel Hi Shine nail varnishes back in the summer, I made a bee line for Lychee which has been love ever since. It's the perfect nude shade which is very glossy and takes a lot in order to chip. An honourable mention goes to the

Eos Lipbalms

for being one of the best lip balms I've tried during 2013 so in its place at a very close second is the Nivea Essential Care Lipbalms. This is definitely one of those lip balms that you can apply and apply and it will never run out well, atleast for a few months anyway. This leaves my lips feeling very moistuised and I can still feel it on my lips the morning after I applied it the night before.
2013 was definitely the year of skincare and I finally got to try out the infamous

Liz Earle Cleanse & Polish

! This is one of those no fuss cleansers that is aimed for all skin types. For me, it helped calm any breakouts as well as cleanse my skin and keep it feeling really soft. Another standout skincare product is the

Kiehl's Midnight Recovery Concentrate

which lasted me a good seven months! It's a light weight elixir that once you've massaged into your skin, by morning it's looking a lot healthier and more radiant. Although it's pricey, it's definitely a investment if you're wanting clearer, radiant, healthier skin. The last of the skincare is the

Garnier Simply Essentials Soothing 2 in 1 Makeup Remover

which is a product I've talked a lot about especially over these past few weeks. It's a bi phase product that you have to shake together to combine the layers which makes the perfect makeup remover especially when it comes to removing stubborn liquid eyeliner! This is definite product that everybody needs to try especially when it's a budget buy at it's best.
I always try to take good care of my hair and 2013 was no exception! It saw me finally purchase a build up remover shampoo in the form of the

Boots Build Up Removal Shampoo

which has become a part of my Sunday night ritual. It removes any product build up and leaves your hair feeling squeaky clean ready for a weeks worth of product use and abuse. Whilst I am still a loyal fan of my

Aussie Miracle Hair Insurance Leave In Detangler

, I've been upping the detangling/leave-in conditioning spray usage throughout the part year with the

Dove Nourishing Oil Care Leave-in Conditioning & Care Spray

. It's a dual phase spray that you have to shake together before you spritz it all over your hair which leaves it feeling soft, nourished and smelling so good! A product which is now featuring in its second of these posts is the

Organix Macadamia Oil

which not only helps inject some much needed moisture into dry ends but it also helps to mend any split ends as well as leaving your hair visibly soft and healthy. The last stand out product of 2013 for me is the

Arora Body Butter in Pink Grapefruit

. Whilst it doesn't necessarily smell of grapefruits, it does however leave my body feeling moisturised whenever I do remember to moisturise my body. It's a thick body butter which sinks into the skin instantly once massaged in and it's been the only body butter that I've repurchased in both the same and different scents too!
What products stood out to you during 2013?