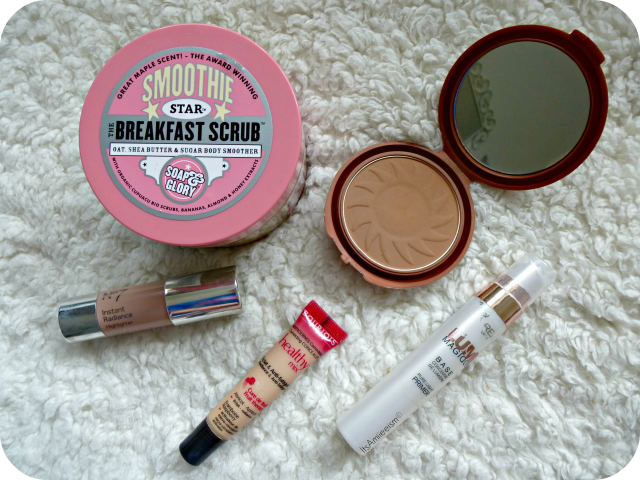 I've been getting a lot of compliments on what I use to highlight with and every single time, it has been the

No7 Instant Radiance Highlighter

. This creates the perfect candlelit champagne, ivory highlightness which looks beautiful when sweeped across the tops of the cheek bones. Another product that I use in combination with that is the L'Oreal Lumi Magique Pure Light Primer which has been the only primer I've used for the past few months! It comes out as a white-ish liquid which has a sheen to it when you look at it in the light but when put onto the skin and massaged in, it creates the perfect radiant from within look that we seem to spend forever creating. I'm not too sure if it does help make my makeup last longer but it certainly does boost my radiance levels for sure.
I've been experimenting with different concealers for under the eyes this month and I've fallen back in love with the Bourjois Healthy Mix Concealer. It's a little thicker than the foundation which does mean that it creases like hell under the eyes but I cannot fault the coverage. This helps covers the entire dark circles as well as highlights the area which creates the appearance that I've had a lot of sleep.
I've been dabbling with a few bronzers this month including the

NARS Laguna Bronzer

which I'm still not liking but the one that I've been going back to is the

NYC Sunny Bronzer

. This is the perfect bronze shade which doesn't look orange or muddy on the skin and as a bonus, it's matte. I'm finding it to be very pigmented now which makes me really want to re-write my review of it as I declared it one of the worst bronzers ever which is certainly not the case now..
The last product I've been loving this month is the

Soap & Glory Breakfast Scrub

which smells exactly like golden syrup banana pancakes! Despite it not being edible, this has certainly with chicken skin across my arms and has definitely helped make them smoother which is all down to it's thick, gritty consistency. I personally prefer taking a small dallop and massage it over damp skin and really work it in to get the full effect.
What products have you been loving throughout April?