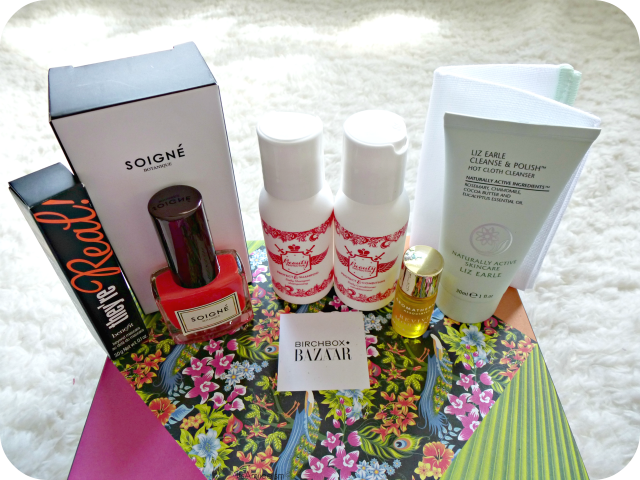 If you could fall in love with a cardbox box then I most certainly have. How beautiful is the May Birchbox?! Birchbox have collaborated with Harper's Bazaar for the May Box to bring together a box with an exclusive collection of products which are all designed to prepare for a season's worth of outdoor adventures. Let's delve straight in..
As part of the collaboration with Harper's Bazaar, Sophie Bloomfield who is the beauty director, has shared a hand-picked selection of beauty products which are mostly all included within the May box. The

Benefit They're Real Mascara (£19.50, Birchbox)

is the perfect travel sized mascara which adds both volume and length to all types of lashes. I already own a deluxe size of this and whilst it may not be the best mascara to my liking, I'm certainly welcoming another sample of it to see if it can sway my mind..
Soigné is a brand that I'm not too familiar with and haven't really heard much about so when I saw the

Soigné Nail Lacquer in Persimmon (£11, Birchbox)

, I was a little overwhelmed as it came housed in a massive box! It's a nail varnish which contains up to 85% of natural origins which I'm personally not too fussed about as I like all types of nail varnishes whether they're natural as can be or not. The shade I received is Persimmon which is best described as a deep tangerine shade which would look perfect with a tan.
I've only recently started seeing Beauty Protector popping up on Instagram and was getting intrigued so the

Beauty Protector Daily Shampoo and Daily Conditioner (£14 each, Birchbox)
is my perfect chance to delve into the brand a little more. The sweet smelling duo promise to strengthen, nourish and protect hair against future damage. These are the perfect size for a weekend away and I'll be sure to packing these with me!
Like most bloggers, I adore cleansing my skin with various cream and balm cleansers so the addition of the

Liz Earle Cleanse & Polish Hot Cloth Cleanser (From £3.25, Liz Earle)

is a most welcome surprise. I've used this in the past and have actually reviewed it here. It's a brilliant cleanser especially if you suffer with dry skin as it helps to nourish the skin whilst gently removing daily grime and make-up including stubborn mascara.
The final product in the box which is one I'm sure most people will be happy to see is a tiny travel size

Aromatherapy Associates Revive Morning Bath and Shower Oil (£39, Birchbox)

. It's been formulated with an invigorating blend of pink grapefruit, rosemary and juniper berry which will help soften the skin whilst uplifting your mood. You can either pour the whole bottle or add a capful to either your bath or smooth over your body before showering. I most certainly will be rationing this and using it for those times that even chocolate can't help my mood..
I am extremely happy with the contents of my May Birchbox, especially with all the high end brands and fantastic extras including a subscription offer for Harper's Bazaar as well as a beauty guide for all the products included. I'm so glad that I subscribed to Birchbox after many months of debating and I'm definitely looking forward to next months box!