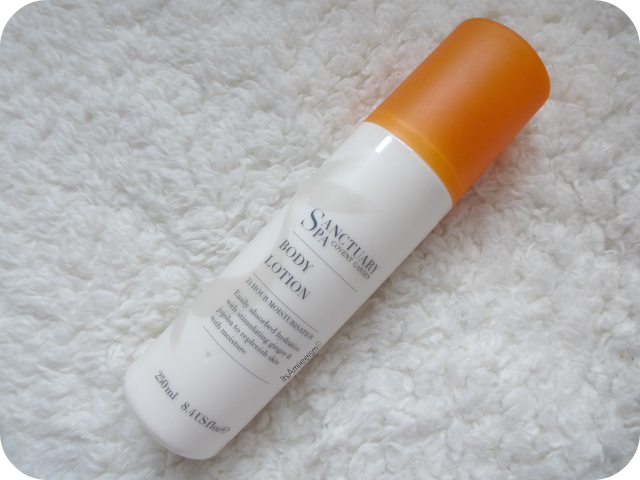 Just like many bloggers, I find myself with quite stash of all things beauty including skincare and body care. With that being said, I seem to have enough body products to see me through until this time next year. One of said products is the Sanctuary Body Lotion that I received in the Sanctuary Spa Top to Toe Glow Pamper Tin which was a cheeky Christmas present bought by me for me
.
The Sanctuary Body Lotion contains a revitalising mix of ginger and fragrant spices which helps stimulate the circulation as well as containing jojoba oil which provides nourishing moisturisation which lasts for a full twenty four hours or so it claims. I will happily admit and say that I did not read what the bottle says about it containing stimulating ginger until it came down to writing this review as whenever I've used this to moisturise my legs, I found that once I massaged it in, my legs would start to get a very warm sensation where in some cases, it honestly felt like my legs were burning. For the record, I don't have overly sensitive skin so I'm not sure if my legs were/are having a reaction whenever I use this which sounds odd saying this as it's just a body lotion and I haven't had any problems in the past using menthol products on my body.
Burning sensations aside, I find that this is a extremely light weight lotion that does take a little more elbow grease than normal to massage in and does a little while longer to sink it fully. Despite that, I do believe that it leaves my body moisturised for up to 24 hours which is quite a bold claim to make although I do only moisturise my body every other day. One more thing to mention is the packaging - don't let that little orange lid fool you! It is one of those bottles that has been designed to pour the product out and despite the lotion feeling light weight on the skin, it takes a quite a while to dispense so I have it sitting upside down on my skincare shelf which means that it comes out within seconds of tipping it upside down.