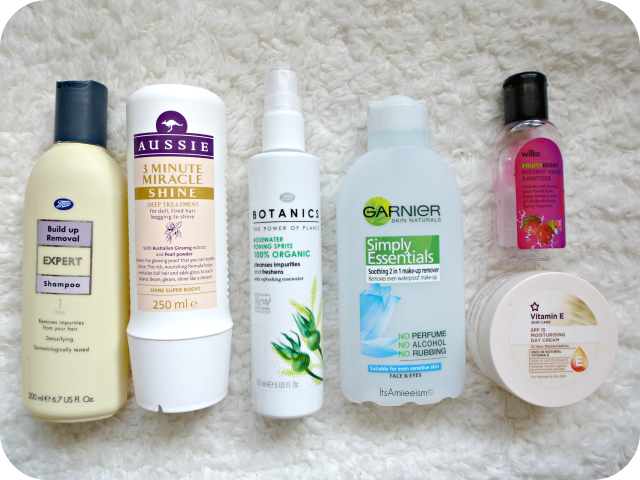 I've used up a bottle of

Boots Build Up Removal Shampoo

which is a part of my Sunday tradition. This helps remove any build up from styling products/general gunk that I've encountered throughout the week and just brings my hair back to normal. It's cheap as chips, does the job and lasts for a few months or so. I've finished a bottle of

Aussie 3 Minute Miracle Shine

which I use after the build up removal shampoo. This helps nourish my hair and helps give back its healthy, shine that I seem to loose every time that I wash my hair after using this. I've finally used up the

Botanics Rosewater Toning Spritz

that I've been using as a toner in the morning for goodness knows how long. This helped to tone my face and just generally wake me up in the mornings. I'm not too sure if it helped tighten up pores but it was a good all rounder toning spritz that I enjoyed using. I've used up another bottle of my beloved

Garnier Simply Essentials Soothing 2-in-1 Makeup Remover

that I now use at Liams'. This does a brilliant job at removing any traces of makeup and it also acts as my first cleanse. I will continue repurchasing this! I've finally finished the

Superdrug Vitamin E Moisturising Day Cream

that I've been using since August last year! A little goes a very long way with this and I found that although I liked it, I didn't truly love it. It did the job however but I shan't be repurchasing. I've also used up a bottle of

Wilko Hand Sanitiser in Fruity Berry

which I will continue repurchasing as it just does the job whilst I'm on the go and smells so good!
I've finally finished the Natural Collection Corrector Stick in Green that I've had lingering around for quite a long time. This helped conceal any redness and just made my skin look less red. This is a very good budget corrector as it does the job so well which I've already repurchased. I've used up the

L'oreal Lumi Magique Pure Light Primer

which I've been using as both a primer and a highlighter. This helps make my skin look more radiant and is just the perfect base for makeup. It also is very good as a highlighter too as its gives the most beautiful golden, white-ish sheen to the tops of the cheeks. I've used up two mascaras in the form of

No7 Stay Perfect

and

Collection No Clumps

. I much preferred the collection version as this helped make my lashes longer whilst not clumping them whilst the No7 offering was perfect for my bottle lashes. I would definitely consider repurchasing both if I didn't have enough mascaras in my stash to use up. I've used up two packs of the

Skin Therapy Large Oval Cotton Wool Pads

which feature in every empties post! These are big enough to cover the whole face whilst not falling apart at the first sign of moisture. I will continue repurchasing these! The last item I've used up is

Lush's Blackberry Bath Bomb

which I thoroughly enjoyed! This helped relieve any stress and tension I had and just helped calm me down. I will definitely be repurchasing this when I'm next having a stressful week.
What did you use up throughout May?