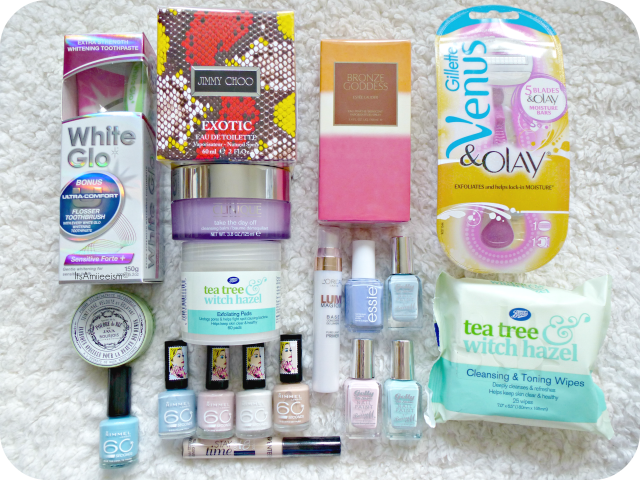 Despite leaving for America in only TWO days where I will definitely be buying lots of makeup, I couldn't resist buying a few bits and pieces here and there from Boots the past few weeks especially when they were having their 3 for 2 across all makeup.
As I've almost ran out of my L'Oreal Lumi Magique Pure Light Primer, I decided to buy a back up as I truly do love it as well as the Bourjois Java Rice Powder as I've had all but good things about it and it has been on my wish list since it was released. Seeing as it was on 3 for 2, I picked up Essie's Bikini So Teeny as my free item as I've been wanting this for absolutely ages! I also picked up more nail varnishes in the form of Barry M Gelly Hi Shine in Huckleberry, Rose Hip and Sugar Apple which are the perfect pastel colours. I also couldn't resist buying a few shades from the Rita Ora for Rimmel collection so the ones I picked up are Lose Your Lingerie, White Hot Love, Pillow Talk and Let's Get Nude. I also bought the Rimmel 60 Seconds Nail Varnish in Too Cool To Tango as one of my managers was wearing it and she is definitely an enabler! The last makeup item I bought was another Seventeen Stay Time Concealer in Extra Fair as mine is just about to run out and its the perfect concealer.
As it was 3 for 2 across all dental, I picked up three White Glo Sensitive Toothpastes which I haven't tried yet but apparently it's very good for whitening your teeth so I'm hoping that it works for me. It was also 3 for 2 across Boots Tea Tree & Witch Hazel range, so I bought two of their exfoliating pads to keep round Liams' so I can still chemically exfoliate in some sense as well as some of their cleansing and toning wipes as they sounded appealing. Another skincare item I bought is the Clinique Take The Day Off Cleansing Balm which although I don't need any more cleansers, I couldn't resist buying it especially when one of the Clinique ladies was saving it specially for me..
I've also been a little naughty and bought not one, but TWO new fragrances! One being Jimmy Choo Exotic as it smells exactly like candy and the other being Estee Lauder Bronze Goddess which I much prefer once its settled down. The last item I bought is the Gilette Venus & Olay Sugarberry Razor purely because I think it's time I got rid of my current one and this one sounded appealing.