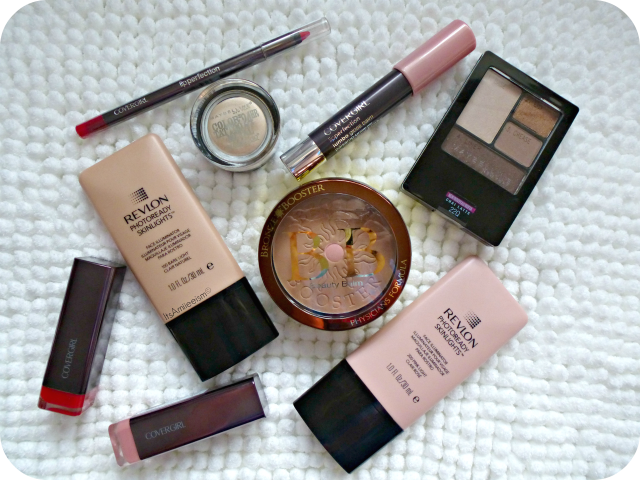 Whilst out in America, I picked up quite a fair bit of mainly makeup and over the next three posts, I'll be sharing what I bought. Now bearing in mind that where I was, there were no Sephora/Ulta/Nordstrom so I was rather limited in where I could buy from but luckily the local drugstores definitely came up top trumps.
As with most items, the Revlon Photoready Skinlights in both Bare Light and Pink Light were incredibly a lot cheaper over in the states than in the UK and as I've been lusting over them since they were launched, it seemed only fair that I picked both up. I enjoy mixing these in with my foundation to give a more dewy base. I've been hearing a lot about the Maybelline 24hr Colour Tattoos recently especially about the US shades so it seemed only fair that I bought one in the shade Barely Branded. This is a beautiful warm, creamy beige with a frosted, metallic finish which I will be using primarily as a base whenever I decide to wear any eyemakeup.
Speaking of eye makeup, I couldn't resist picking up one of the Maybelline Expert Wear Eyeshadow Quads in Chai Latte which appears to have been repackaged since it's inital launch a few years back. Chai Latte consists of four complimentary shades; the base shade appears to be a pale, shimmery, peach shade; the lid shade is a very metallic, warm bronze; the crease shade is rather warm toned grey with hints of brown and lastly the liner shade is a very shimmery chocolate brown.
I decided to take a look at what Covergirl has to offer which is Max Factor over here in the UK but of course in the states, it's only a fraction of the UK price. I couldn't resist picking up one of their Lip Perfection Jumbo Gloss Balms in Ballet Twist which is one of their more famous shades and rightly so as it's a gorgeous shimmery pale pink. I also picked up two of their Lip Perfection Lipsticks in the shades Honeyed which is a pale pink and Hot Passion which is a bright red which is definitely out of my comfort zone. I also picked up the matching lip pencil for Hot Passion in the shade Passion.
The last item I couldn't resist picking up is the Physicians Formula Glow Boosting Beauty Balm BB Bronzer in Light to Medium. This appears to be a very shimmery bronzer with a pink centre which I'm hoping that both are just a sprayed on overlay and that underneath, it's not as shimmery.