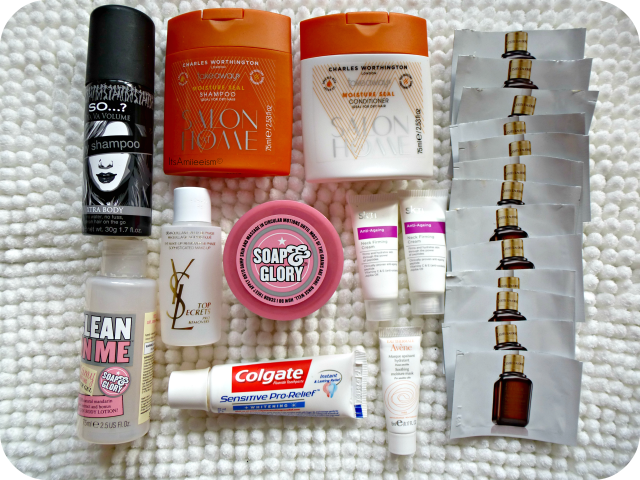 Whilst out in America, I managed to use up 13 one use samples of

Estee Lauder Advanced Night Repair II

. I actually purchased the full size of this in Duty Free and had been using it prior to leaving so I knew that I would like it regardless. It's a weird consistency as it's runny like an oil but thick like a serum but my skin seems to drink it up the minute I apply it. I don't notice too much of what it does for my skin but I do know that my skin appears to be more radiant come morning. I've used up two

Sk:n Anti-Ageing Neck Firming Cream

which feels very light on the skin but is all the more moisturising once the skin has absorbed it. I do really like what it does for my skin but I just don't think I can part with the money for what is essentially a moisturised aimed for the neck..
I've finished a travel sized version of

Colgate Sensitive Pro-Relief + Whitening Toothpaste

which lasted two weeks with every day use. I didn't notice too much of the whitening effect but it certainly helped my sensitive teeth with the constant drinking of ice cold drinks. I've used up a travel sized tube of

Avene Soothing Moisture Mask

which I used on the days in America where my skin felt a little drier than normal due to the air con. This really helped to rehydrate my skin and luckily, I already own the full size of this! I've finished up the travel sized

Soap & Glory Flake Away Body Scrub

which is very exfoliating! I absolutely adore this and already own a full size of this.
I've used up the

Charles Worthington Moisture Seal Shampoo

and

Conditioner

which is aimed to those with dry hair. This duo left me seriously impressed as they helped make my hair really soft and nourished especially on the ends. The duo smelt nice and didn't weigh my hair down. If I didn't have enough shampoos and conditioners to get through, I would definitely be buying this duo! I've finished up a travel sized So...? Va Va Volume Dry Shampoo which smelt pleasant and did the job but I just wasn't particularly wowed by it.
I've used up a travel sized

YSL Top Secrets Pro Removers

which is a bi-phase eye makeup remover that you have to shake up to combine the two liquids. This did a good job at removing my eye makeup and I sometimes used it to remove my face makeup as well. Whilst it did the job, I wouldn't repurchase this as I feel there are better makeup removers out there at only a fraction of the price. Lastly, I've finished up a travel sized

Soap & Glory Clean On Me Shower Gel

which I use mainly as a shaving lotion. This works really well at getting a close enough shave whilst leaving the skin moisturised. I will continue to repurchase this!