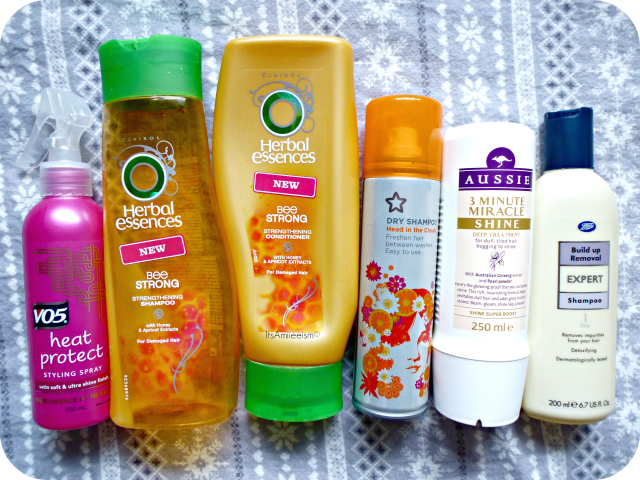 I've used up the

VO5 Heat Protect Styling Spray

which I used daily for when I straightened my hair. This done the job nicely, had a nice scent and will definitely be repurchasing soon. I've finished finish up the

Herbal Essences Bee Strong Shampoo + Conditioner

which were extremely basic and didn't do much for my hair - would not recommend! I've used up a can of Superdrug Dry Shampoo in Head In The Clouds which did an okay job on third day hair but the scent was a bit much. I've finished up another

Aussie 3 Minute Miracle in Shine

which I absolutely swear by as it makes my hair so much softer and shinier! I've also used up another

Boots Build Up Removal Shampoo

which I use every single Sunday to remove any product build up and will forever be repurchased.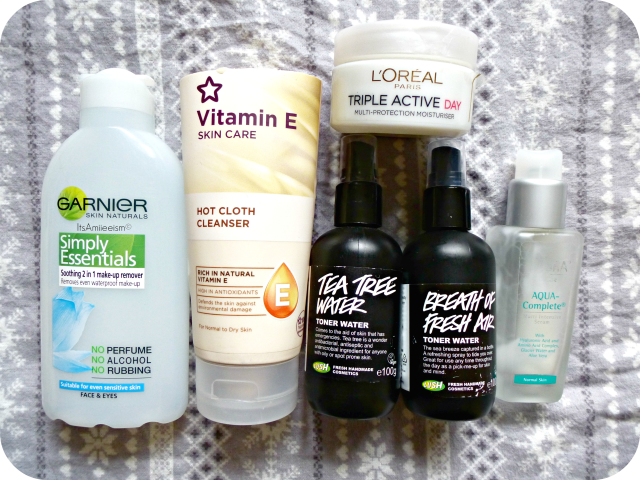 I've used up another

Garnier Simply Essentials Soothing 2-in-1 Makeup Remover

which removes my makeup quickly and effortlessly. I will need to repurchase this ASAP! I've finished up another

Superdrug Vitamin E Hot Cloth Cleanser

which I thoroughly enjoyed using as it makes my skin soft and nourished - will be repurchased! I've finished up two Lush Toners;

Tea Tree Water Toner Water

and

Breath Of Fresh Air Toner Water

. The tea tree offering I felt did more for my skin in terms of active blemishes whereas the latter just helped to wake me up in the morning. I've finally used up the

L'Oreal Triple Active Day Cream

which I did like but I felt that it took forever to use up and the scent annoyed me at times. I've gone through another

Lacura Aqua Complete Multi Intensive Serum

which is a dupe for Hydraluron but just a fraction of the price. This really helps to keep my skin hydrated and will forever be repurchased.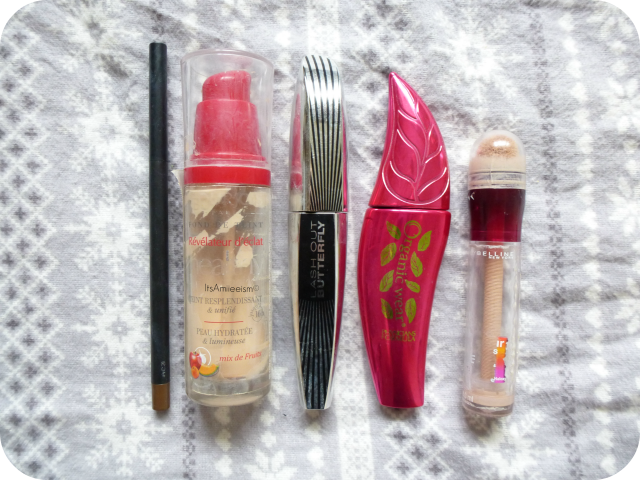 I've used up a

MAC Eyebrow Pencil in Lingering

which I've been absolutely loving using as it's the perfect shade for my brows and it fills them in so naturally. I've finished up another

Bourjois Healthy Mix Radiance Reveal Foundation

which is what I use on a daily basis to mix in with other foundations as it helps give a more radiant look. I've used up the

L'Oreal Lash Out Butterfly Mascara

which I loved using in combination with the

Physicans Formula Fake Out Mascara

as it gave incredible volume and length whilst defining my lashes. I've finished up the

Maybelline Instant Age Rewind Eraser Dark Circles

which I loved using for my dark circles albeit I do find it a little unsanitary due to the sponge applicator.

I seem to be going through cotton wool pads like there's no tomorrow as I've used up four packs of the

Wilko Maxi Oval Cotton Wool Pads

which will forever be repurchased. I've finished up a pack of the

No7 Quick Thinking Wipes

which will also be forever repurchased and will be forever used for anything but removing makeup. I've finally used up the

Sensodyne Extra Whitening Toothpaste

which I felt did the job nicely and will be picking up again when I'm in the states. I've finished up the

Soap & Glory The Breakfast Scrub

which exfoliates the skin brilliantly but I'm getting a little sick of the scent. I've used up the

Nivea Soft Moisturising Cream

which I will be repurchasing ASAP as I loved how moisturising it was. I've used up two hand sanitisers this month; the

Wilko Hand Sanitiser in Fruity

and the Cuticura Anti Bacterial Hand Gel in Passion Flower & Mango which both did the job well. Lastly, I've finally used up the

Organic Surge Lavendar Meadow Hand & Nail Cream

which had a very soothing scent which made it the perfect hand cream to use before bed.