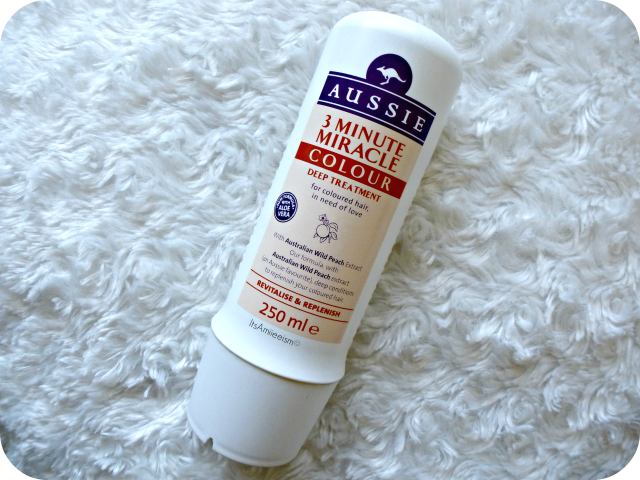 I've noticed that since getting more bleach put into my hair to higlight the fact that I'm more ombre, my hair has been feeling more dry than normal. As I always use Aussie's 3 Minute Miracles as a Sunday night treat, I decided to buy one targeted specifically for coloured hair in the hope that it will end my dry hair woes.
The Aussie Colour 3 Minute Miracle (£4.99)

is enriched with extracts of australian wild peach which helps to revitalize dry, dull hair and transform it into vibrant, luscious locks. Just like with all Aussie 3 Minute Miracles, it just takes three minutes for the miracle to happen although you can leave it on for a lot longer.
As mentioned, I like to use Aussie 3 Minute Miracles on Sunday and I like to apply a generous amount all over my hair, concentrating mainly on the mid-lengths down. I tend to leave it on for a lot longer than three minutes as I like to apply it and get on with the rest of my routine before washing it out completely afterwards. Since I've started using this, I wouldn't say that it has transformed my hair completely as it still has it dry days; even more so now due to a particular product to tackle various scalp issues (more on that soon!) but it's definitely made it more manageable in the sense that it's easier to brush after washing. I do definitely prefer their other 3MM's, in particular their reconstructor which is by far one of my favourites so I doubt I'll be rushing out any time soon to repurchase this particular one.