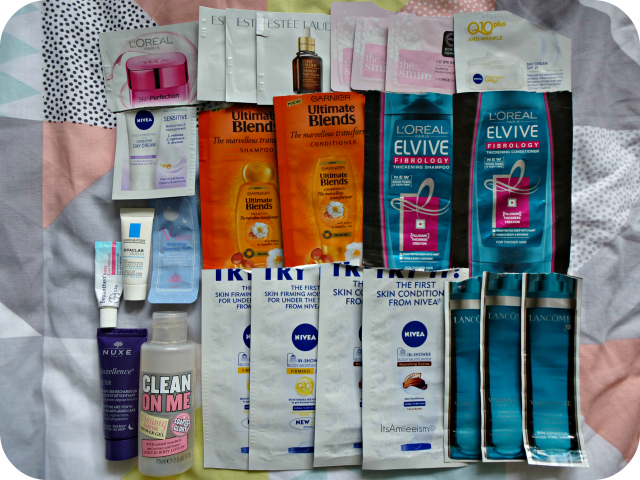 This has to be the most amount of samples that I've gotten through in one month alone which is probably down to the fact that I'm making a conscious effort to use up some samples first, after finishing a full size product before moving onto a new product.
Along with the fact that I mainly packed only samples on my most recent holiday up to York and then up to Penrith.
I've used up a few samples of

Estee Lauder Advanced Night Repair

which I thoroughly enjoy using as it completely transforms my skin overnight and I already have a full size waiting for me. I've finished up a few samples of

The Smim Radiating Moisturising Cream

which I will definitely be buying a full size of soon as I love how it makes my skin look incredibly radiant and hydrated at the same time! I've used up a sample of

Nivea Q10 Plus Anti-Wrinkle Day Cream

which feels a little too heavy for my skin and too a while to sink in but when it's finally absorbed, it leaves my skin feeling hydrated and soft.
I've used up a sample of

L'Oreal Skin Perfection Correcting Day Moisturiser

which is actually a pastel pink colour which I was not expecting! This kept my skin hydrated and soft to the touch and funnily enough, I've got a full size of this in my stash too. I've used up a sample of

Nivea Sensitive Day Cream

which my skin literally drank up within seconds. It's very light on the skin and is very moisturising albeit I won't be buying this in full size as I have too many moisturisers to use up at the moment. I've used up a sample of

Lioele V-line Waterdrop Sleeping Pack

which is actually a gel like consistency that gets absorbed into the skin almost instantly. This left my skin feeling very soft to the touch and didn't feel sticky or greasy either.
I've recently had a new tattoo done which explains why I've finished up the most cutest sample ever of

Bepanthen

. I was applying every few hours or so to help speed up the healing process and it's definitely done the trick! I've used a few samples of

Lancome Visionnaire

which features in every post of this as it truly is one of the best skin correcting serums I've tried! I've used up a sample of

L'Oreal Fibrology Shampoo & Conditioner

which I've used in the past and absolutely love! This helps make hair appear thicker without drying it out and is definitely one duo that I'll be repurchasing real soon!
I've used up a couple samples of

Nivea In Shower Body Moisturiser in Nourishing Cocoa

and

Firming

and I much prefered the latter as it just felt more hydrating and smelt better too! I've finished up a travel sized

Soap & Glory Clean On Me Shower Gel

which I use primarily as a shaving lotion as it helps achieve a closer shave. I've used up a sample of

Garnier Ultimate Blends The Marvellous Transformer Shampoo

&

Conditioner

which I'm actually in awe of the results as it made my hair feel incredibly soft and that is before using any oils or leave in conditioners. It also made my hair smell good too so this will definitely be getting purchased once I've gone through a few more in my stash!
I've finished up a generous sized sample of

Nuxe Nuxellence Detox

which is the more hydrating, thicker consistency version of Lancome Visionnaire. This completely transformed my skin overnight and left it hydrated, radiant and smooth and is one product that once again, I already have a full size in my stash. Lastly, I've used up a sample of

La Roche Posay Effaclar Duo+

which I got about three full face uses out of. This helps with acne and any scarring left over from blemishes and is a product that I use on a daily basis.