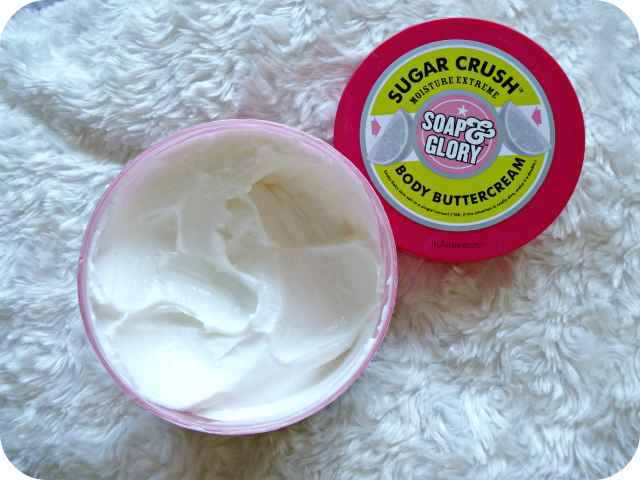 When it comes to bath and body products, I much prefer using products from the same scent/brand to get a better feel of said scent especially when that particular scent is one that I've had mixed thoughts about for quite a while. Sugar Crush by Soap & Glory is simply one of those scents that when first launched, I instantly took a dislike to however fast forward a few months and I can see why everybody loves it so much!
The Soap & Glory Sugar Crush Body Buttercream (£10.50)

is a mouthwatering, irrestible blend of shea and cocoa butter mixed with kiwi juice water, lime and almond oils which makes this one of Soap & Glory's thickest body butters yet! It's not quite on par with The Body Shop when it comes to consistency but it certainly comes close!
I like to be quite generous when it comes to moisturising my body so I tend to scoop out a decent sized amount before massaging it into my body, concentrating it mainly on the driest parts. No matter how little or how much I apply, this will not sink in instantly so I tend to do the hurry-up-and-dry-body-dance if I'm in a rush or if it's just before bed, I prefer to stick my PJs on almost straight after applying. Unlike some body butters where the scent fades away after only a few minutes, this particular one lingers on the skin for literally hours and I can even still smell it the morning after applying it the night before! What I like the most about this body butter is just how moisturising it truly is - it leaves my skin feeling incredibly soft and smooth whilst leaving it feeling really hydrated. Once I use up the bulk of my body butters, I will definitely be repurchasing this in a heart beat!