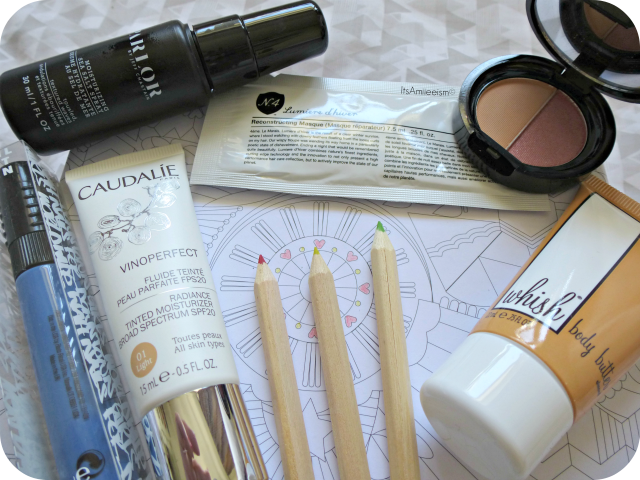 Unlike previous Birchboxes in the past, this months edition is rather special. Instead of the usual collaborations and themes, Birchbox have decided to go ahead with a rather unique way to free your mind - literally. Gone are the plain brown boxes for this month and instead, they've been replaced with a white and black box which you can

c

o

l

o

u

r

in! Various studies have proven that taking time out to colour something in is a very therapeutic way to help de-stress and clear your mind and I will most definitely be taking this to work with me in a bid to get over stressful customers. Without further ado, let's delve into this months contents..
The

Caudalie Vinoperfect Radiance Tinted Moisturiser in Light (£27)

definitely got my heart racing when I first opened up the box as it's a product that I've had my eye on for quite a while. It's one of those lightweight moisturisers that is a true multitasker, both treating and brightening the skin whilst adding a little light coverage to those areas that need it most. Best of all, the shade Light matches my skin perfectly so I'll definitely be wearing this most Sundays.
I was a little late to the bandwagon when it came choosing my sample this month so I got lumbered with the

WAH London Nail Art Pen in 08 (£7)

which is a rather royal blue. I haven't experimented with any nail art in forever so this won't be getting much love from me but I bet it would look incredible over a white nail..
I very briefly experimented with salt sprays at the beginning of last year and haven't tried it again since so the

Parlor by Jeff Chastain Moisturising Sea Salt Spray (£17)

will be most likely getting passed onto a friend who enjoys experimenting with their hair. Unlike most salt sprays which smell surprisingly of salt, this one smells of ripe peaches and freshly cut grass so it would be interesting to see how long that scent lasts in the hair.
I love slathering myself in body butters so the

Whish Body Butter in Almond (£14.50)

is a most welcome addition to my stash! I've actually tried the Lavendar version of this from a previous box and thoroughly enjoyed it so I'm hoping that this scent will be even better. Made with aloe, shea butter and raspberry butter, it'll be sure to help battle even the most driest of bodies!
Bronzers are one of my weaknesses so I was excited to see the

Jelly Pong Pong Caribbean Sun Bronzer Duo in Martinique (£15.95)

in this months box although that excitement was short lived when I opened it up. The bronzer is more orange toned and therefore doesn't show up on my skin and the blush is far too shimmery for my liking so this will be getting passed onto a family friend who's just starting out with makeup.
As I'm currently more blonde than brunette, the

Number 4 Lumiere d'Hiver Reconstructing Masque (£36)

satchet will be getting some serious loving at some point in the near future when my hair is looking a little dry and dull. As it contains soy proteins, shea butter, sunflower seed oil and jojoba seed oil, it will help leave hair smooth, strengthened and shiny again.
Seeing as this months theme is to free your mind, it seemed only right to have Birchbox throw in some colouring pencils to help transform our boxes into a beautiful, colourful masterpiece.