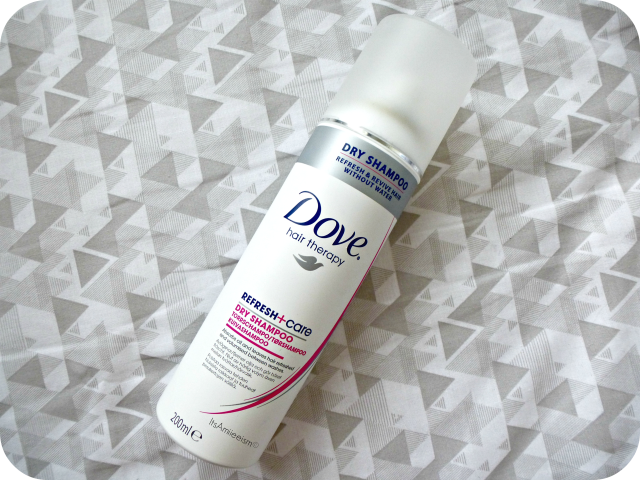 I tend to wash my hair three to four times a week which translates to every other day or when I have the time to. I love nothing more than washing my hair yet I find the whole task tedious in itself. For those days when I don't want to wash my hair yet it feels or look a little greasy, I turn to dry shampoo which is godsend in itself.
Recently, I've been reaching for the

Dove Refresh + Care Dry Shampoo (£4.59)

which helps to absorb oil and leaves hair feel refreshed and volumised inbetween washes. Unlike most dry shampoos, this contains less starch which means that it doesn't leave that familiar chalky look that some well known ones can do.
My method of using dry shampoo is spraying it directly at the roots where I need it most, leave it for a few seconds before massaging it into my scalp which is the most effective way for me. By doing this, I'm getting rid of the majority of the oil whilst giving my hair some volume which recreates that just washed feeling. As it doesn't leave a chalky finish, I can spray as much or as little as I want all over which is brilliant news if you're as heavy handed as me when it comes to dry shampoo! This can also be doubled up as a slight texturising spray as if you spray it concentrating on the mid-lengths down, you can recreate a similar effect. What I love the most about this dry shampoo is the scent - it doesn't have a fake scent but instead has that just washed scent which disguises the fact that you may not have washed your hair in a few days. This is definitely one of the better dry shampoos that I've tried and is one that I will be repurchasing asap!