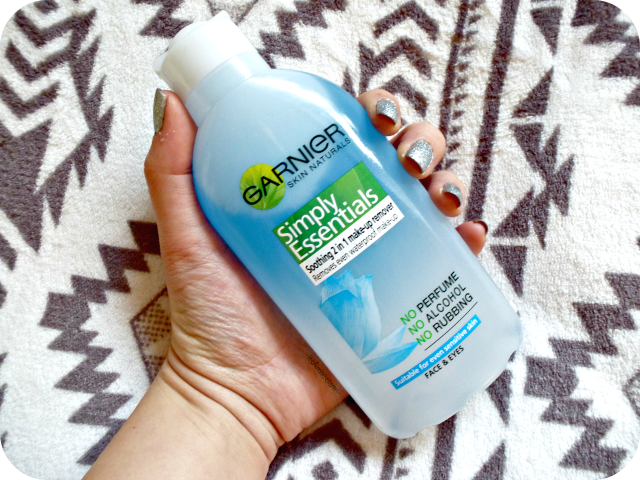 Back at school, I would always remember to take off my make up before bed using make up wipes although there were quite a few occasions where I would forget to do just very that. Nowadays, I reserve make up wipes for the sole purpose of getting foundation off the back of my hand/cleaning up spillages etc and use an actual make up remover to take off the days face. These past few months, I've been using the Garnier Simply Essentials Soothing 2 in 1 Make Up Remover to do just very that and thought that it was about time to share my two cents on it.
The Garnier Simply Essentials Soothing 2 in 1 Make Up Remover is a bi phase product which you have to shake up in order to use. It combines the efficiency of a make up removing oil (blue) with the freshness of a cleansing water (clear) which means that you wont have to rub it over your skin to get the make up off. It's enriched with plant extracts and pro-vitamin B5 which contains no perfume or alcohol which will leave your skin feeling soft and comfortable rather than that dreaded tight feeling.
I personally find this to be a good all rounder when it comes to removing makeup however it does require a little more work when it comes to removing any eye makeup. I only have two slight issues with this product that don't bother me as such but I'm sure that it would bother most. Garnier claim that this does not leave any residue nor does it require any rubbing which is simply not true as this does leave a slight oily residue on the skin and you do have to rub at your face a little especially when it comes to your eyes. Despite this, I will continue to use this and repurchase it until I find something that doesn't require quite as much work.
What is your favourite make up remover?