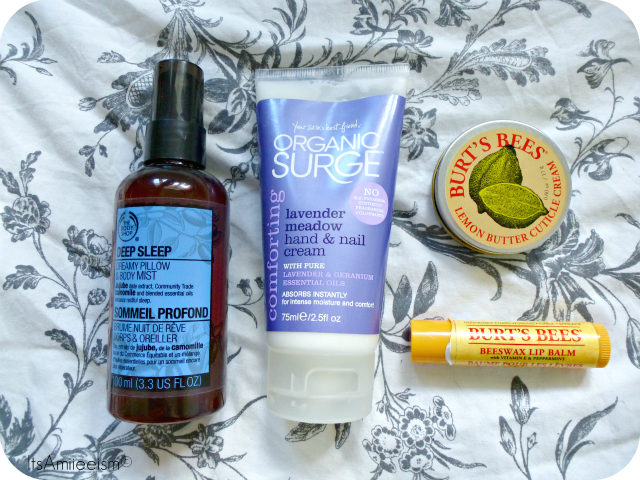 There's nothing I love more than climbing into bed after a long day and getting ready to go to sleep. I have a few things kept next to me close at hand which I deem to be my night time essentials which I use religiously every night. These products help the whole drifting off to sleep process a lot easier and I feel a lot more relaxed after using these.
I always keep a lip balm at hand and the one by my bed is the

Burt's Bees Lip Balm with Vitamin E & Peppermint

which my friend

Megan

got me for my birthday. I used to be a huge fan of Carmex but after having a reaction to one of their products, I've had to stop using them and find a different alternative so this Burt's Bees Lip Balm has been living on my bed side table ever since. Due to it containing peppermint, it tingles the lips at first but the sensation does disappear after a minute or so. I've noticed that whenever I wake up after applying this at night, I can still feel it on my lips which means that it's definitely a keeper in terms of moisturising the lips.
Another Burt's Bees product that I keep close at hand is their

Lemon Butter Cuticle cream

which just smells divine! It smells exactly freshly squeezed lemons. This definitely does the trick at keeping my cuticles moisturised and it's great value for money. I've had this now for about a year and I won't be repurchasing it any time soon until I go to America next year. Whilst I like to keep my cuticles moisturised at night, I also like to keep my hands moisturised soon and the

Organic Surge Lavender Meadow Hand & Nail Cream

* is perfect for the job! As it contains pure lavendar and geranium essentials oils, I find that this comforts me and relaxes me whilst it absorbs into my skin. This doesn't feel greasy at all and absorbs really quickly which makes it the ideal hand cream to use before bed.
The last night time essential and also one which many may seem unncessary is

The Body Shop Deep Sleep Dreamy Pillow & Body Mist

. I spritz this roughly five times over my pillow and then fluff it up before putting my head on it as I find it releases the scent more. It contains jujube date extract, camomile and blended essential oils which makes it a very comforting scent before bed. I enjoy sniffing this on my pillow before drifting off as the scent is just so calming whilst not being too overpowering.
Those are my night time essentials, what are yours?