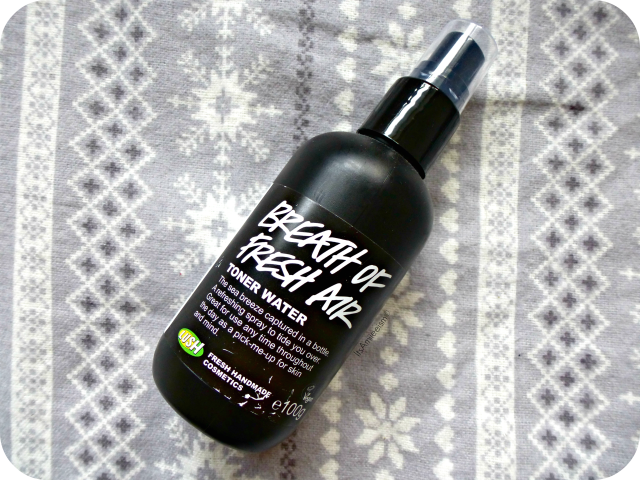 Toners are one of those products that many people say are an unneccesary step as they do absolutely nothing. I on the other hand believe that they do a lot for your skin and really hold your skincare routine in check especially when you're using exfoliating toners. As I use a extremely mild exfoliating toner on a daily basis, I needed something refreshing for my skin in the mornings to help wake me up so I decided to pick up Lush's Breath Of Fresh Air Toner Water.
The Lush Breath Of Fresh Air Toner Water (£4.25 for 100g/£7.95 for 250g)

is one of Lush's more refreshing toner waters as it contains mineral-rich carrageenan seaweed extracts and rose absolute which helps to tone and balance the skin. The rose absolute will help reduce any redness whilst the added patchouli acts as a astringent on the skin and helps cool everything down.
I've been using this toner every morning for the past part of eight months which is a incredibly long time (and extremely good value for morning). I find that this really does help wake me up in the mornings especially when I'm feeling rather sluggish. I simply spritz it a few times across my face and go in with a cotton wool pad afterwards to remove any excess. I haven't noticed any long term benefits from using this apart from the fact that it does help slightly with any troublesome blemishes and reduces redness as well as feeling extremely refreshing on the skin. If I'm ever in the market for a new toner, I will definitely be picking this up as I will miss it's sea breeze scent in the mornings.