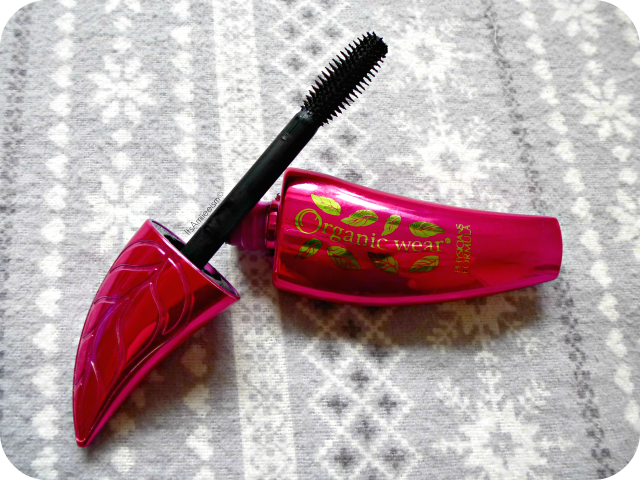 Out of all the brands that are available over in the states, one that I was most excited about getting my mitts on were Physicians Formula as they're a brand that aren't easy to get ahold of the UK, despite them soon launching here. I picked up quite an array of products and one that I was most excited about trying is their Organic Wear Fake Out Mascara which I've heard so much about. After trialling it for a few months, I thought I would finally share my two cents about it.
The Physicians Formula Organic Wear Fake Out Mascara ($9.99/£6.29)

is one of those mascaras that the ingredients are 100% of a natural origin of which 70% are completely organic. It is 100% free from harsh chemicals, parabens, synethic colours, fragrances and preservatives all whilst being cruelty free and having a recylable brush. The mascara itself claims to give a natural false lash effect due to it containing natural fibers that helps amplify lash volume, length and curl with no irritation.
I've been using this mascara for the best part of five months and I must say this it is one of the best mascaras I've tried. I will first admit that I haven't noticed it making my lashes dramatically longer than normal and on closer inspection, I can't see any fibers at all which makes me question the mascaras claim. However what I have noticed is that this mascara works better combined with another mascara like the

L'Oreal Lash Out Butterfly Mascara

for example. When used by itself, it gives the lashes both volume and length but it doesn't necessarily curl them unless you've used eyelash curlers beforehand. When used with another mascara, it gives dramatic length and volume. The brush itself is a plastic wand which may not be to your liking if you prefer traditional mascara wands but the wand is where the magic lays, as it helps give your lashes a real boost in the volume stakes. It gets right into your lashes and helps lift them which it turn gives the appearance of false lashes. I can get about seven hours wearing time before it starts to flake off slightly which is how long I wear my makeup for roughly anyway.
I'm hoping that when Physicans Formula do eventually launch properly here in the UK, that this mascara is included in their lineup as I expect that many people will be wanting to get their mitts on it as it truly is a brilliant mascara and I regret not picking up more of it.