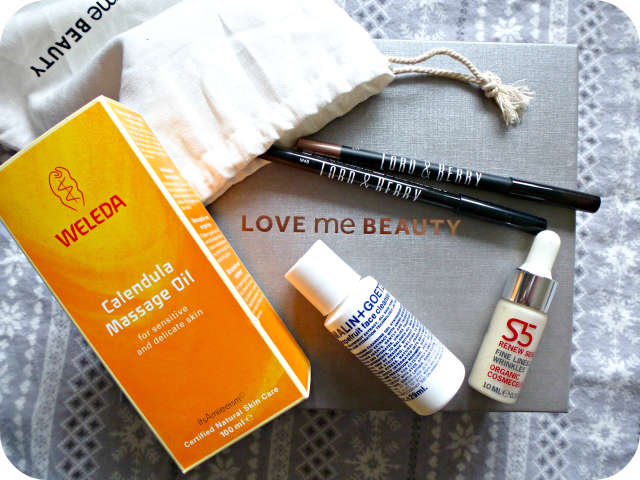 Following on from last months box where I mentioned that they've repackaged/rebranded Love Me Beauty and are now copying Birchbox with the bags in the boxes, this month it would appear that they've finally rolled out the new packaging to everybody and not just to select individuals. I found that this month, there wasn't anything that I really wanted from the Boutique so I selected a few things just for the sake of choosing.
I added both the

Lord & Berry Smudgeproof Waterproof Eyeliner in #720 Sand

and the

Lord & Berry Polish Eye Pencil in #5071 Mirror Black

. I much prefer the formula of the latter as it's a lot more creamier and the colour appears a lot more intense. I'm not entirely sure why I chose these two items as I'm quite happy with my current black eye liner and I never stray far from it.
I've read a lot of reviews recently of the

S5 Renew Serum

so I thought I better try a sample of it for myself. I'm not suffering with any fine lines or wrinkles just yet but I like to think that starting to use products specifically aimed for anti-aging will be the key to preventing them. The last item I added to my basket was the

Malin + Goetz Grapefruit Face Cleanser

but on closer inspection, it appears to be a foaming gel which I'm not too sure I will actually use as we all know that any foaming cleansers can strip the skin, so I will have to do my research on this and see if that is the case. Love Me Beauty also added the

Weleda Calendula Massage Oil

to my box which I'm not entirely sure why - is it because I chose things I didn't necessarily want/like but chose them anyway for the sake of choosing? It is because I've been subscribed for a number of months and this is just to say thanks?
Overall, as much as I like Love Me Beauty, I have decided to cancel my subcription due to the lack of good products in the Boutique. I know that every beauty box has their good and bad months but it would appear that Love Me Beauty are having more bad than good especially now that you have to choose which products you want which goes against why I subscribed to them in the first place.