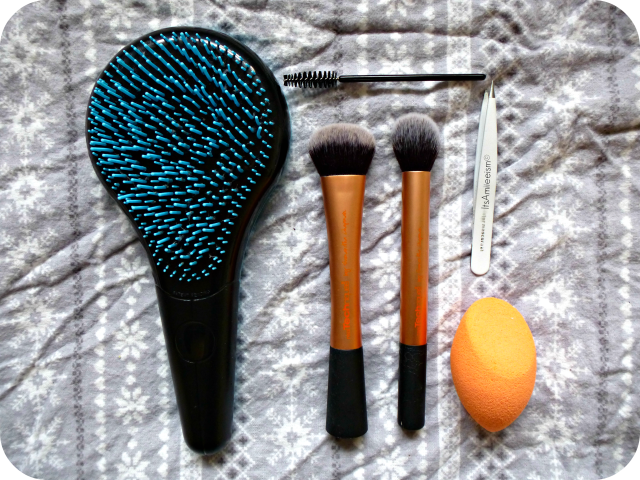 For what feels like forever, I've been using the

Real Techniques Contour Brush

for not contouring at all but rather applying highlighter. It's the perfect shape for applying just the right amount of highlighter to the tops of my cheekbones, brow bone and cupids bow. It's starting to look a little worse for wear with the amount of times that I've used it and washed it so a replacement will definitely be needed soon. Another brush that I've been loving throughout 2014 is the

Real Techniques Expert Face Brush

which I used to use to apply my foundation with but nowadays, I use it to contour with. The wide, firm shape of the brush is literally the perfect shape to contour my face with it as it fits perfectly within the hollows of my cheeks and does the job so effortlessly. Whilst I can be a little heavy handed at times, this brush will blend it all out within an instant ensuring that there are no harsh lines.
2014 was definitely the year that I realised that makeup sponges are the best way to apply foundation with and in particular, the

Real Techniques Miracle Complexion Sponge

which I have repurchased multiple times throughout the year. It has three different sides which all work together to apply, blend and buff in the foundation seamlessly without looking caked on. I actually own a Beauty Blender which I haven't used yet as I'm favouring this over it purely because it's the best thing I've ever discovered! Midway through the year, I discovered that filling in my brows makes any makeup look ever more polished and in order to do so, I've been using the

disposable mascara spoolies

to help brush my brows into place. I buy these in packs of 100 from China for only a few quid which is definitely a few quid well spent as they do the job so well and they last forever, well until they get dirty that is.
One beauty tool that I've used on a weekly basis throughout 2014 is the

Mister Mascara Precision Point Tweezers

which I actually received for Christmas '12! These bad boys have still remained sharp for over two years and they're still plucking out any stray hairs just as well as before. They may be expensive for what they are but they are the best damn tweezers I have ever used! The last beauty tool that has wowed me in 2014 is one that I actually picked up in America which is the

Michael Mercier Detangling Brush

which I much prefer over a tangle teezer as it has a handle to hold rather than gripping the brush itself. This is actually meant for thick hair which I didn't realise until I opened it up at home but despite me having quite thin hair, it does the job really well. This helps remove any tangles and knots within seconds and I can even use it on wet hair without running the risk of damaging it.