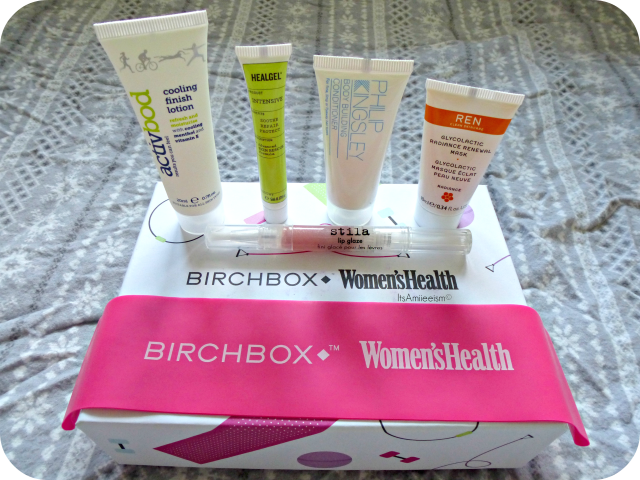 Another month and another brilliant Birchbox where this time around, they've collaborated with Women's Health to bring us Hit Refresh; a box themed around the New Year when we're all starting afresh with resolutions, hopes and goals for the year ahead. To coincide with this collaboration, there's a brilliant subscriber offer included where you can get 10 issues for just £18, saving 52% which is perfect if you're planning on improving your health and fitness during 2015. Also included is a Hit Refresh booklet containing 12 bite-sized challenges with quick and easy ways to small little changes for big benefits.
The first product that caught my eye is a 10ml

Ren Glycolactic Radiance Renewal Mask (£30)

which I've used in the past and I'm so glad to have back in my life again! It's a fast acting, exfoliating treatment which promises to give you radiant looking skin after just one use. Plus, it looks and feels exactly like marmalade!
Another product that I was excited to get is a full size

Stila Lip Glaze (£15)

in the shade Gleam which is a pretty shimmery pink shade that doesn't quite translate to that on the lips but none the less, it's still a beautiful shade that will work well over a pale pink lipstick.
Next up is a 5ml sample of

HealGel Intensive (£37.50)

which is raved about across the blogging world and is hailed as one of the skincare products to own. It helps to repair, soothe and protect skin whilst leaving the skin glowing and radiant. This has been on my wishlist for what feels like forever so I'm so glad that I've received a sample of it to try before I splash out for it.
One addition to the box that I'm excited about trying is the

Philip Kingsley Body Building Conditioner (£19)

as I've never tried anything from the brand before! It works to transform lifeless locks and tame flyawas and is best suited for fine, limp or frizzy hair which means that this is definitely ideal for me!
A brand that I've never heard of before which has been included in this months box is the

Activbod Cooling Finish Lotion (£12)

which apparently is the perfect way to re-energise after a workout with an invigorating menthol lotion that not only moisturises the skin but provides a soothing, tingling sensation upon application. As I don't personally workout, this will be getting passed onto Rebecca who cycles daily.
The final thing included in this months box is a

Birchbox & Women's Health Exclusive Pilates Band (£7.99)

which in all honesty is rather pointless as I don't do pilates and don't think I ever will. However, it's described as being the ideal workout aid for toning, improving muscle endurance and increasing stength - despite it looking and feeling like a stretchy band, it's a lot more sturdy and resistant than it looks!
Sadly, there wasn't any

Embrace Matcha Green Tea (£24.99)

included in my box but to be honest, I'm glad that they weren't in it as I don't drink tea or green tea for that matter and nobody else in my family does.